Putin said it is necessary "to discuss with the Russian oil-producing companies the possibility of reducing oil output in connection to problems linked to the transit of our oil through Belarusian territory."
The dispute over oil levies that Russia and Belarus imposed against each other has led to a suspension in oil supplies to several Central and Western European countries.
Putin today said it was necessary to continue negotiations with Belarusian officials to shield Western consumers from the effects of the dispute, but also said it was necessary to protect national economic interests.
The European Commission today said it was "unacceptable" that it was not informed of the suspension in oil shipments and urged Russia and Belarus to resolve the supply halt "immediately."
(compiled from agency reports)
Russia And Belarus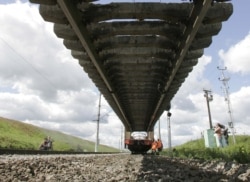 The main Moscow-Minsk railway line(Tass)

TO MERGE OR NOT TO MERGE: For over a decade, Moscow and Minsk have been working on a project to form a single state, the Russia-Belarus Union. However, every time the two countries seem on the verge of making progress, one or the other steps back, leaving the entire effort in doubt.
RELATED ARTICLES
Putin, Lukashenka Press Ahead With Unification
Has Putin Promised Lukashenka Fair Weather?
Tensions Remain In Putin-Lukashenka Talks
ARCHIVE
RFE/RL's
coverage of Belarus
. RFE/RL's
coverage of Russia
.