Chinese authorities said they were targeting terrorists at a training camp of the East Turkestan Islamic Movement, which seeks independence for ethnic Uyghurs in western China.
Eighteen people were killed and 17 detained in the operation, which a statement from the Kyrgyz border guards said took place between January 4-8.
Chinese authorities said a large amount of weapons were seized during the operation, which was carried out in the Tashkorgon region of Xinjiang.
(Interfax, AFP)
China In Central Asia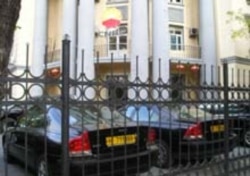 The Almaty,Kazakhstan, office of China's National Petroleum Corporation (RFE/RL)
BEIJING ON THE RISE:
The September 11, 2001, terrorist attacks against the United States prompted Washington to topple the Taliban regime in Afghanistan. At the time, many predicted the United States would gain a new foothold in Central Asia: new U.S. military bases appeared in Kyrgyzstan and Uzbekistan, U.S. foreign aid increased, and much U.S. attention was lavished on the region. Russia and China looked on warily. But the pendulum may be swinging back in Moscow's and Beijing's favor. China, especially, has expended great effort at winning friends in Central Asia and is becoming a force to be reckoned with
....(more)
RELATED ARTICLES
Turkmenistan-China Pipeline Project Has Far-Reaching Implications
Central Asia Looks To Fuel Asia's Economic Boom
The Geopolitical Game In Central Asia
ARCHIVE
To view an archive of RFE/RL's coverage of China, click here.

SUBSCRIBE
For weekly news and analysis on all five Central Asian countries by e-mail, subscribe to "RFE/RL Central Asia Report."