The move follows a raid by Chinese security forces on a remote camp that Beijing says was a training base for the East Turkestan Islamic Movement, an Uyghur separatist group.
Chinese authorities have sharply elevated the status of what they portray as the terrorist threat stemming from the Uyghur separatist movement in Xinjiang.
"China's government always accuses Uyghurs of terrorist activities, it has never recognized the Uyghurs' peaceful and democratic activities," World Uyghur Congress spokesman Dolkun Isa said.
Zhao Yongshen, a senior regional security official, described Uyghur separatists in early January as the "main terrorism threat facing China" now and in the future.
Zhao's comments coincide with reports in the official media linking the East Turkestan Islamic Movement (STIH) with Al-Qaeda fighters across the border in Afghanistan and Pakistan.
China's Foreign Ministry said authorities have evidence that East Turkestan groups are forging links with international terror groups. Ministry spokesman Liu Jianchao sought to link the drive against Uyghur separatists to the international war on terror.
"We think that cracking down on international terrorist organizations, including East Turkestan terrorism, benefits China and the world as well," Liu said. "On this issue there should not be a double standard. We believe that no country in the world wishes to see another Al-Qaeda in China."
Major Raid
The heightened focus on Uyghurs comes just days after Chinese security forces staged the biggest known raid on what it said is a military training camp for the STIH in the village of Tashkoroo near the border with Tajikistan, killing 18 people and arresting 17 others.
In conjunction with this, Kyrgyzstan's border guard service said today that China informed both the Kyrgyz and Tajik governments that security has been increased along their borders with China.
The deputy chief of Kyrgyzstan's border guards, General Sadyrbek Dubanaev, gave some details of the decision.
"After the announcement of the special operation by the Chinese side, we briefed everyone [security authorities on the Kyrgyz side] and then Kyrgyzstan and China decided to increase security along the border," Dubanaev said.
Other Versions
But mainstream Uyghur rights activists question the accuracy of the Chinese version of events at Tashkoroo.
Dolkun Isa, a spokesman for the World Uyghur Congress, expressed doubt to RFE/RL that the camp in the remote Pamir Mountains is really a military facility. He said Beijing describes all Uyghur activism as extremism.
"China's government always accuses Uyghurs of terrorist activities, it has never recognized the Uyghurs' peaceful and democratic activities," Isa said.
Isa said the alleged military camp may have been something quite different.
"I believe they were not terrorists, but possibly refugees fleeing across the mountains in an effort to reach safety in a neighboring country," Isa said.
He called for the United Nations or the European Union to hold an independent enquiry into what actually happened. Only then would the truth be known, he said.
In Washington, World Uyghur Congress Chairman Alim Seytoff said that the Chinese may have "artificially created" the incident in an attempt to prove the existence of a terrorist threat and thereby justify Chinese actions against Uyghurs.
The congress claims it has no links with the shadowy East Turkestan Islamic Movement, which is believed to be a small group.
Shanghai Cooperation Organization
Shanghai Cooperation Organization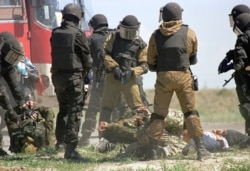 Soldiers conducting the first-ever SCO joint antiterrorism exercises, held in Kazakhstan in August 2003 (TASS)

NATO'S EVIL TWIN? At an August 3 briefing at RFE/RL's Washington,D.C., office, Central Asia experts Richard Weitz and Daniel Kimmage discussed the emergence of the Shanghai Cooperation Organization (SCO), a multilateral body that comprises Russia, China, Kazakhstan, Kyrgyzstan, Tajikistan, and Uzbekistan. In addition, Iran, Pakistan, Mongolia, and Afghanistan have observer status in the organization.
LISTEN
Listen to the entire briefing (about 75 minutes):

Real Audio
Windows Media
RELATED ARTICLES
U.S. Wary Of Shanghai Grouping
Unified Message Emerges From Shanghai Summit
Shanghai Cooperation Organization Mulls Expansion
China-Russia Bloc Challenges U.S. In Region


THE COMPLETE STORY: Click on the icon to view a dedicated webpage bringing together all of RFE/RL's coverage of Kazakhstan, Kyrgyzstan, Tajikistan, Turkmenistan, and Uzbekistan.