Deputy Prime Minister Andrey Kabyakou, in televised comments late on January 15, said Belarus might charge Russia for the two military bases that Russia now uses rent-free and also for the land under the Yamal-Europe pipeline, which transports Russian gas to Germany.
His comments were in response to Russian President Vladimir Putin's statement earlier that day. Putin said the oil-transit deal last week, and an earlier gas-price agreement, would significantly reduce Russian support for the Belarusian economy.
However, Putin said that even after the deals, indirect Russian subsidies to Belarus in the form of cheap oil and gas next year would amount to $5.8 billion, or more than 40 percent of Belarus' budget revenues.
Kabyakou said that assessment "does not correspond to reality."
(belta.by, naviny.by, AFP)
Russia And Belarus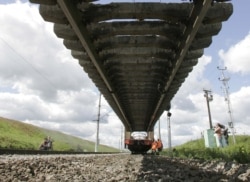 The main Moscow-Minsk railway line(Tass)

TO MERGE OR NOT TO MERGE: For over a decade, Moscow and Minsk have been working on a project to form a single state, the Russia-Belarus Union. However, every time the two countries seem on the verge of making progress, one or the other steps back, leaving the entire effort in doubt.
RELATED ARTICLES
Putin, Lukashenka Press Ahead With Unification
Has Putin Promised Lukashenka Fair Weather?
Tensions Remain In Putin-Lukashenka Talks
ARCHIVE
RFE/RL's
coverage of Belarus
. RFE/RL's
coverage of Russia
.