Karzai made the accusation at the opening of a new session of the Afghan parliament.
Strong Statement

"The enemies of Afghanistan's independence and interests continue their interference in our internal affairs," Karzai said. "They derive terrorist groups from international terrorist networks with the support of some particular Pakistani circles, killing our scholars, children, teachers and other government officials in a merciless campaign."

Karzai also said drugs and corruption in his government were contributing to the violence. He added that the danger from the insurgency and drugs would intensify in the coming year, and called on people to rally to the defense of the nation.

Karzai did not elaborate on the identity of the "Pakistani circles."
Intelligence Blamed Too
Separately, "The New York Times" today quoted unnamed Western diplomats and Pakistani opposition figures as saying that Pakistani intelligence agencies, particularly the Inter-Services Intelligence and Military Intelligence, have been supporting a comeback by the Taliban.
The newspaper wrote that two weeks of reporting along the Pakistan-Afghan border uncovered "many signs that Pakistani authorities are encouraging the insurgents, if not sponsoring them."

The Pakistani government has strongly denied such allegations.

(compiled from agency reports)
Afghanistan And Pakistan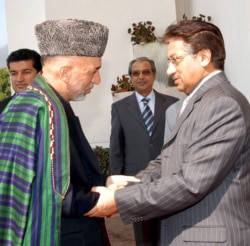 Afghan President Hamid Karzai (left) with Pakistani President Pervez Musharraf in Islamabad in October 2005 (epa)

ACROSS A DIFFICULT BORDER. The contested border between Pakistan and Afghanistan is some 2,500 kilometers long and runs through some of the most rugged, inhospitable territory on Earth. Controlling that border and preventing Taliban militants from using Pakistan as a staging ground for attacks in Afghanistan is an essential part of the U.S.-led international coalition's strategy for stabilizing Afghanistan. Officials in Kabul have been pointing their fingers at Pakistan for some time, accusing Islamabad or intelligence services of turning a blind eye to cross-border terrorism targeting the Afghan central government. Many observers remain convinced that much of the former Taliban regime's leadership -- along with leaders of Al-Qaeda -- are operating in the lawless Afghan-Pakistani border region.... (more)
RELATED ARTICLES
Pakistan-Afghanistan Conflicts Continue
Karzai, Musharraf Spar Ahead Of Bush Meeting
Musharraf Says Taliban Could Spark Pashtun 'National War'
Afghan Minister Attacks Pakistani Support For 'Terrorism'
Historical Context Of Afghan-Pakistani Relations
Afghanistan/Pakistan: 'Inseparable Twins' In Need Of Separation
ARCHIVE
RFE/RL
coverage of Afghanistan
. RFE/RL
coverage of Pakistan
.
SUBSCRIBE
For weekly news and analysis on Afghanistan by e-mail,
subscribe to "RFE/RL Afghanistan Report."