The move comes amid a standoff between President Kurmanbek Bakiev and the parliament over presidential powers stemming from revisions to a new constitution and Prime Minister Feliks Kulov's December decision to resign.
Isabekov, an economist, is regarded as a staunch ally of Bakiev.
The president reportedly met with key parliamentarians today to gauge political sentiment ahead of an official nomination, which could come later today.
Lawmakers are not expected to debate the nomination until at least January 29.
Presidential spokesman Nurlanbek Shakiev told RFE/RL's Kyrgyz Service that Bakiev met with the heads of parliamentary committees and political factions to talk about Isabekov's nomination.
"The lawmakers [meeting with president] presented their demands, proposals, and wishes [regarding a new nomination]," Shakiev said. "Then the president proposed a candidate for the nomination there -- it is Azim Isabekov, who is acting minister of agriculture, water [and the reprocessing industry]".
Kulov and his government resigned in December amid a crisis surrounding the adoption of a new constitution.
Opponents have accused President Bakiev of reneging on a deal to diminish presidential powers that was struck in the midst of street protests demanding that he implement promised reforms or step down.
Kyrgyz law gives the president the power to dissolve the parliament if it rejects his nomination for prime minister three times, although political rivals continue to dispute precise interpretations of recent legal revisions.
(with additional reporting by AFP, AP)
Understanding Kyrgyzstan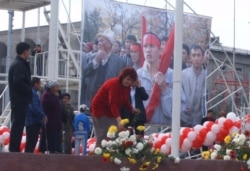 Workers preparing for celebrations of the constitutional compromise in Bishkek on November 9 (RFE/RL)


A STABLE FOUNDATION? On November 9, RFE/RL's Washington office hosted a briefing featuring RFE/RL Kyrgyz Service Director Tyntchtykbek Tchoroev and RFE/RL analyst Daniel Kimmage.
LISTEN
Listen to the complete discussion (about 80 minutes):

Real Audio
Windows Media
RELATED ARTICLES
Parliament Adopts Constitution Curtailing Presidential Powers
Crisis Deepens After President Proposes Constitutional Changes
Bishkek Prepares For Large Opposition Rally