Afghan President Becomes Father For First Time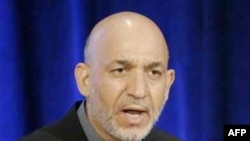 President Hamid Karzai (file photo) (AFP) January 26, 2007 (RFE/RL) -- Afghan President Hamid Karzai's wife has had the couple's first baby, a son, after nine years of marriage.
Karzai's wife, Zinat, who is an obstetrician, gave birth to the baby, named Mirwais, in Kabul on January 25.
"The baby was examined after its birth," Afghan Health Minister Amin Fatemi told RFE/RL's Radio Free Afghanistan today. "It is perfectly healthy and has no problems. By the grace of God, our country's first lady, Zinat Karzai, is perfectly healthy. She received medical care at the hospital and was discharged."
A spokesman for Karzai, Karim Rahimi, said the president "prayed for his son to serve the Afghan people."
(with additional agency reports)