Pelosi and her congressional delegation stopped at the U.S. base in Bagram where she thanked soldiers for their service. She also met briefly with General Benjamin Freakley, the top U.S. general in Afghanistan.
Pelosi and her delegation later met President Hamid Karzai. Nothing about the talks was disclosed.
The trip to Afghanistan follows a stopover in Pakistan yesterday, where Pelosi met with President Pervez Musharraf to discuss the situation in Afghanistan and cooperation in countering terrorism.
A statement from Pakistan's Foreign Ministry said the U.S. delegation "lauded Pakistan's role in the war against terrorism."
Pelosi's delegation earlier visited Iraq.
(AP)
The Proliferation Threat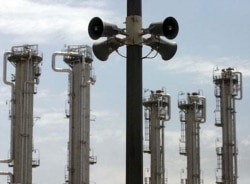 The Arak heavy-water plant in central Iran (Fars)


BENDING THE RULES. Henry Sokolski, executive director of the Nonproliferation Policy Education Center, told an RFE/RL-Radio Free Asia briefing on January 9 that the West is hamstrung in dealing with Iran and North Korea because of the way it has interpreted the international nonproliferation regime to benefit friendly countries like India and Japan.
LISTEN
Listen to the entire briefing (about 90 minutes):

Real Audio
Windows Media
RELATED ARTICLES
Iran, North Korea Present Proliferation Challenges
Tehran Watches As North Korea Tests Global Resolve
Rogue Nuclear Programs Threaten New Arms Race
Why Shouldn't Pyongyang Join Nuclear Club?