Rights Group Says Afghan Government Failing On Security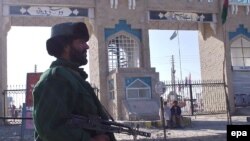 An Afghan soldier guards the Pakistan border on January 28 (epa) January 30, 2007 (RFE/RL) -- Human Rights Watch says more than 1,000 civilians were killed in Afghanistan in 2006, and says the statistics show the Afghan government has not met its obligations to provide security.
In a press release today, the New York-based group said the Afghan government has failed to meet the security and development goals laid out in the Afghanistan Compact, an international agreement signed in London one year ago.
"Kabul and its international backers have made little progress in providing basic needs like security, food, electricity, water, and health care," the group's statement says.
Human Rights Watch called on the United States, the EU, and other donors to provide greater economic and military assistance to protect Afghans' human rights.
Afghan and international delegates are due to meet in Berlin today and tomorrow to assess progress on the Afghanistan compact.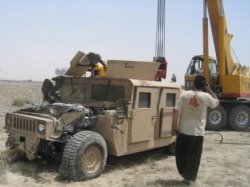 A U.S. military vehicle damaged by insurgents near Kandahar (epa)
HOMEGROWN OR IMPORTED? As attacks against Afghan and international forces continue relentlessly, RFE/RL hosted a briefing to discuss the nature of the Afghan insurgency. The discussion featured Marvin Weinbaum, professor emeritus of political science at the University of Illinois at Urbana-Champaign, and RFE/RL Afghanistan analyst Amin Tarzi.
LISTEN
Listen to the entire briefing (about 83 minutes):
Real Audio
Windows Media
ARCHIVE
RFE/RL's
coverage of Afghanistan
.
SUBSCRIBE
For weekly news and analysis on Afghanistan by e-mail,
subscribe to "RFE/RL Afghanistan Report."