The new rules would apply to oil and gas fields and mineral deposits, as well as military hardware, aviation, and atomic energy.
Russian media reports said that under the new rules, foreigners who wanted to acquire a controlling stake in an enterprise defined as strategic must apply to a government commission.
The commission would coordinate approvals with the Federal Security Service, and in certain cases the president would have the right of veto.
Natural Resources Minister Yury Trutnev told the cabinet 10 oil and 26 gas fields as well as several mineral deposits would be designated as strategic. He said foreign investors would not be allowed to acquire a controlling stake in their development.
But he also said existing arrangements with foreign companies would not be reviewed.
Prime Minister Mikhail Fradkov said the legislation would be fine-tuned in the coming weeks.
(ITAR-TASS, Interfax, AP)
Prague Energy Forum, October 23-24
Prague Energy Forum, October 23-24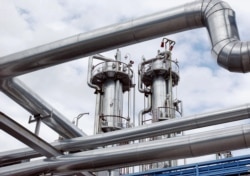 An oil refinery in Western Siberia (TASS)

STABILITY AND SECURITY: On October 23-24, RFE/RL and the Warsaw-based Economic forum cosponsored the Prague Energy Forum at RFE/RL's Prague broadcasting center. The Energy Forum brought together nearly 100 experts and policymakers from Europe, Central Asia, and the Middle East to discuss key issues of energy supply and security in the years to come.
HIGHLIGHTS: RFE/RL presents some of the key presentations from the Energy Forum and interviews with some participants:
Czech Premier Urges Reduced Energy Dependence On Russia
Interview: Nature A Bigger Threat To Security Than Terrorism
Russia Can Boost Security Through Transparency
Interview: Russian Expert Addresses Europe's Security Concerns
U.S. Official Outlines Concerns About Iran's Nuclear Program
Iranian, Western Experts Spar Over Tehran's Nuclear Ambitions
Experts Ponder Future 'Gas Wars'
Former U.S. Ambassador Says Kyiv Can Cope With Gas Price Rise
Interview: Tbilisi Bent On Energy Independence


MORE: Click on the image to see the conference program, participant list, and other materials.