International Security Assistance Force (ISAF) spokesman Colonel Tom Collins said today that NATO troops are prepared to help the government effort, but he added that there "is no need to rush to action here."
Residents and officials suggest that hundreds of villagers have fled Musa Qala, in Helmand Province, to avoid being caught in potential fighting. Helmand Provincial Council member Abdul Zahir told the Institute for War and Peace Reporting that authorities, anticipating a flood of refugees from Musa Qala, have prepared shelter for approximately 1,500 families.
Musa Qala was the stage for a deal, reached in October, between local elders and regional officials that was intended to keep NATO and Afghan troops, along with Taliban fighters, well outside the district center.
But Taliban fighters stormed the local offices on February 1 after accusing international forces of reneging on a pledge not to conduct air raids, and insurgents have reportedly flown the Taliban flag in downtown Musa Qala ever since.
NATO and Afghan officials were reportedly following the Musa Qala deal closely in hopes that it might provide a model for curbing violence in other Afghan districts.
(IWPR.net, AP, Reuters)
The Afghan Insurgency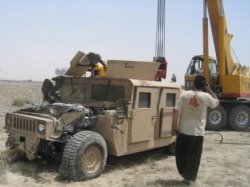 A U.S. military vehicle damaged by insurgents near Kandahar (epa)
HOMEGROWN OR IMPORTED? As attacks against Afghan and international forces continue relentlessly, RFE/RL hosted a briefing to discuss the nature of the Afghan insurgency. The discussion featured Marvin Weinbaum, professor emeritus of political science at the University of Illinois at Urbana-Champaign, and RFE/RL Afghanistan analyst Amin Tarzi.
LISTEN
Listen to the entire briefing (about 83 minutes):
Real Audio
Windows Media
ARCHIVE
RFE/RL's
coverage of Afghanistan
.
SUBSCRIBE
For weekly news and analysis on Afghanistan by e-mail,
subscribe to "RFE/RL Afghanistan Report."