Wakil Ahmad Muttawakil told Reuters that an "inter-Afghan dialogue" is needed and that the discussion will "bear fruit."

Muttawakil surrendered to U.S.-led forces after the Taliban was toppled and was released from custody in 2003.
Fresh Fighting
Taliban militants killed four Afghan police officers and seriously wounded three others in an ambush late in the evening of February 9 in southern Afghanistan.
Provincial police chief Afmatullah Alizai said the attack on a truck full of Afghan police took place in Kandahar Province's Panjwayi district.
The area is the site of the largest-ever NATO ground battle: more than 500 militants were killed there in September by NATO forces in an operation to clear the region of militants.
(Reuters, AP)
The Afghan Insurgency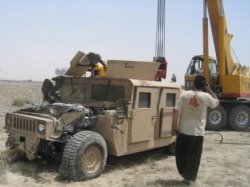 A U.S. military vehicle damaged by insurgents near Kandahar (epa)
HOMEGROWN OR IMPORTED? As attacks against Afghan and international forces continue relentlessly, RFE/RL hosted a briefing to discuss the nature of the Afghan insurgency. The discussion featured Marvin Weinbaum, professor emeritus of political science at the University of Illinois at Urbana-Champaign, and RFE/RL Afghanistan analyst Amin Tarzi.
LISTEN
Listen to the entire briefing (about 83 minutes):
Real Audio
Windows Media
ARCHIVE
RFE/RL's
coverage of Afghanistan
.
SUBSCRIBE
For weekly news and analysis on Afghanistan by e-mail,
subscribe to "RFE/RL Afghanistan Report."