While not specifically naming the Taliban, Karzai said the door remains open for negotiations "with our enemy."
"While we are fighting for our honor, we still open the door for talks and negotiations with our enemy, who is after our annihilation and is shedding our blood," Karzai said.
He made the offer in Kabul during a religious gathering for the Ashura holiday, one of the holiest days for Shi'a.
Two years ago, Karzai offered amnesty to moderate Taliban, but today's offer made no such distinction.
(Reuters)
The Afghan Insurgency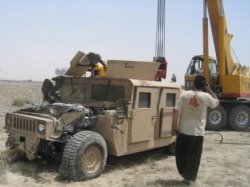 A U.S. military vehicle damaged by insurgents near Kandahar (epa)
HOMEGROWN OR IMPORTED? As attacks against Afghan and international forces continue relentlessly, RFE/RL hosted a briefing to discuss the nature of the Afghan insurgency. The discussion featured Marvin Weinbaum, professor emeritus of political science at the University of Illinois at Urbana-Champaign, and RFE/RL Afghanistan analyst Amin Tarzi.
LISTEN
Listen to the entire briefing (about 83 minutes):
Real Audio
Windows Media
ARCHIVE
RFE/RL's
coverage of Afghanistan
.
SUBSCRIBE
For weekly news and analysis on Afghanistan by e-mail,
subscribe to "RFE/RL Afghanistan Report."