He criticized the United States for going it alone in international relations and "forcing its will on the world," condemned the concept of a unipolar world, and accused the United States of undermining world security.
Russian-U.S. relations are perhaps at the coolest they've been for a while. In the last few years, both sides have failed to reach any significant bilateral accords, with the exception of the United States's approval of Russia's entry into the World Trade Organization.
It's unlikely that the Russian president believes such a speech could push the United States into changing its international approach.
So why make such an impassioned speech?
Filling The Leadership Vacuum
Putin's speech could be seen as a bid for leadership among those states and forces that are opposed to U.S. policy.
The Russian president seems to be trying to capitalize on international difficulties the United States is facing, particularly in Iraq. Putin is also, perhaps, responding to concerns, expressed recently by the world's political and financial elite at the World Economic Forum in Davos, about a deficit in world leadership.
"Putin's speech has had the same impact as Nikita Khrushchev pounding his shoe on the table"
Aleksandr Prokhanov, the publisher of a Russian nationalist weekly, said "Putin's speech positioned Russia at the center of anti-American resistance, together with the Arab world and China."
Another hard-liner, Deputy Duma Speaker Sergei Baburin, said that "previously Russia begged for its place on the international arena. Now it defines it regardless of whether somebody agrees or not."
Today's Russia is not afraid of being isolated, or losing access to Western loans. Moreover, it is not afraid of losing Western investments. For the last two years Moscow has snapped up the most attractive assets in the energy market and foreign investors are not hurrying to invest in other sectors in Russia.
Middle East Trip
Putin could well have been trying to create a favorable image in the Arab world on the eve of his trip to the Persian Gulf.
According to an interview with "Al-Jazeera," one of Putin's main goals for his Middle East trip is to attract new investments.
During the Cold War, conservative regimes in Arab countries, in particular Saudi Arabia, helped the mujahedin in Afghanistan fight against Soviet troops.
Today, however, Russia has managed to establish dialogue with some conservative Sunni Arabic states like Saudi Arabia and is bidding to restore its role in the Middle East.
Strong National Leader
The speech was intended for a domestic audience to cement Putin's place in history as a strong national leader.
In recent weeks, Putin loyalists have advanced the idea that although Putin is set to leave the presidential office in 2008, he can not abandon his role "as the uncontested national leader," as Kremlin spin doctor Gleb Pavlovsky put it recently.
Analysts in Russia have floated the idea that in 2008 Putin could become a "co-ruler" or "co-president." Or perhaps, as another pro-Kremlin commentator, Sergei Markov, put it: "a new position will be created for Putin as the head of a confederation uniting the biggest Russian companies and public organizations."
Whether Putin wanted to or not, his Munich speech has certainly made waves. Or as a businessman from Voronezh, quoted in "Komsomolskaya pravda" on February 12, noted: Putin's speech has had the same impact as when Soviet leader Nikita Khrushchev pounded his shoe on the table at the UN in October 1960."
Then, as now, the West listened.
Russia Beyond 2008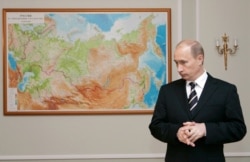 President Putin is mulling his political future (epa)

THE 2008 QUESTION: President Vladimir Putin's second term of office ends in the spring of 2008. Since the Russian Constitution bars him from seeking a third consecutive term, this event threatens to present a crisis in a country that has a history of managed power transitions. Already, Russian politics are dominated by the ominous 2008 question.
RFE/RL's Washington office hosted a briefing to discuss the prospects of Putin seeking a third term. The featured speakers were RFE/RL Communications Director Don Jensen and political scientist Peter Reddaway of George Washington University.
LISTEN
Listen to Don Jensen's presentation (about 16 minutes):
Real Audio
Windows Media
LISTEN
Listen to Peter Reddaway's presentation (about 35 minutes):
Real Audio
Windows Media
RELATED ARTICLES
Will Putin Pursue Third Term, Or Will It Pursue Him?
Could Yakunin Be 'First-Called' As Putin's Successor?
Putin Again Says He Won't Run For Third Term But Will 'Work' For Russia
Interview: Former Premier Kasyanov Warns Of Political Crisis
Former Premier Kasyanov Announces Run For President
ARCHIVE
RFE/RL's English-language
coverage of Russia
.

SUBSCRIBE
For news and analysis on Russia by e-mail,
subscribe to "RFE/RL Russia Report."