Russia Reiterates Concerns About U.S. Missile-Defense Plans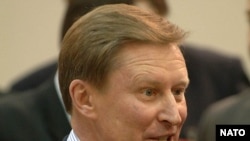 Sergei Ivanov in Seville today (NATO) February 9, 2007 -- Russian Defense Minister Sergei Ivanov reiterated Russia's concerns over U.S. plans to place missile-defense sites in Central Europe.
Meeting with his NATO counterparts in Seville, Spain, Ivanov repeated warnings that Russia would develop weapons to surpass any anti-missile system. But he insisted Moscow would not be drawn into a new arms race with the United States.
"We think about our security constantly, not occasionally," Ivanov said. "And we must ensure our security in any scenario. But our response will, of course, be asymmetric and inexpensive. And if anybody tries to draw us back into an arms race, that is not going to happen."
Ivanov also pledged Russia would help NATO crush a Taliban insurgency in Afghanistan. He said Russia would provide unspecified intelligence support to NATO and reconstruction aid to Afghanistan.
He also confirmed Russia's plans to write off Afghanistan's estimated $10 billion of Soviet-era debt.
(AP)

SUBSCRIBE For news and analysis on Russia by e-mail,
subscribe to "RFE/RL Russia Report."