The alliance says more than 300 troops from Britain and other NATO countries secured the Kajaki dam late on February 12 with support from NATO aircraft and Afghan government troops.
Afghan provincial officials said at least 22 Taliban have been killed during the past three days in clashes near the dam.
A spokesman for NATO's International Security Assistance Force (ISAF) said she could not confirm a death toll.
Earlier on February 12, Afghan officials told RFE/RL that hundreds of Taliban fighters had massed for an attack on the dam.
Meanwhile, Taliban fighters continue to control the town of Musa Qala about 25 kilometers west of the Kajaki dam.
But Helmand's police chief, Ghulam Nabi Malakhail, says seven Taliban were killed in recent clashes within the province's Musa Qala district -- including a Taliban commander named Mullah Tohr Jan.
Afghan officials tell RFE/RL that a NATO-led offensive will begin "soon" against Musa Qala, which was seized by the Taliban in early February.
(with material from Reuters, AP)
The Afghan Insurgency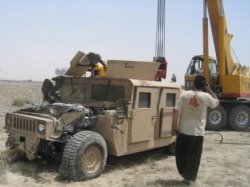 A U.S. military vehicle damaged by insurgents near Kandahar (epa)
HOMEGROWN OR IMPORTED? As attacks against Afghan and international forces continue relentlessly, RFE/RL hosted a briefing to discuss the nature of the Afghan insurgency. The discussion featured Marvin Weinbaum, professor emeritus of political science at the University of Illinois at Urbana-Champaign, and RFE/RL Afghanistan analyst Amin Tarzi.
LISTEN
Listen to the entire briefing (about 83 minutes):
Real Audio
Windows Media
ARCHIVE
RFE/RL's
coverage of Afghanistan
.
SUBSCRIBE
For weekly news and analysis on Afghanistan by e-mail,
subscribe to "RFE/RL Afghanistan Report."