Wafa said today that he believes they are massing for an attack on the Kajaki hydroelectric dam.
Afghan Interior Ministry spokesman Zmarai Bashari confirmed the report, telling RFE/RL today that the militants are believed to include Chechens, Arabs, Uzbeks, and Pakistanis.
Meanwhile, the U.S. military says Afghan and coalition forces early today battled Taliban fighters in the town of Gerishk, about 100 kilometers south of the Kajaki Dam.
Bashari told RFE/RL that at least 11 Taliban were killed in that fighting.
Bashari also said that Afghan and NATO forces are preparing for a major offensive against Taliban militants who in early February seized the town of Musa Qala, which is about 25 kilometers from the Kajaki Dam.
The area around the Kajaki Dam -- in the northeast corner of Helmand Province -- has seen heavy fighting between Taliban and NATO forces in recent weeks.
The U.S. government is spending millions of dollars to reconstruct the dam in an effort to increase electricity supplies in southern Afghanistan.
(with material from agency reports)
RFE/RL Exclusive Interviews
RFE/RL Exclusive Interviews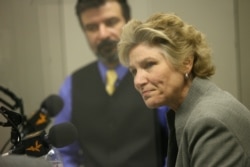 U.S. Undersecretary of State Karen Hughes being interviewed by RFE/RL in Prague on June 11 (RFE/RL)
AT THE MICROPHONE. RFE/RL frequently conducts in-depth interviews with leading newsmakers and analysts from throughout its broadcast region. Transcripts of many of these interviews have been gathered on a special archive page.
Recent Highlights:
Romanian President Traian Basescu | On EU aspirations
Georgian Integration Minister Giorgi Baramidze | On Georgia's relations with NATO, EU
U.S. Ambassador to the IAEA Gregory Schulte | On Iran's nuclear program
Kyrgyz Foreign Minister Alikbek Jekshenkulov | On relations with Uzbekistan
Former Ukrainian President Leonid Kuchma | On the return to power of Viktor Yanukovych