AFP quoted provincial Governor Mohidin Khan as saying some 300 Taliban fighters overran the town of Bakwa today. But Khan told RFE/RL's correspondent in Herat that he is not certain if the Taliban are still holding the town.

General Abdul Wahab Walizada, the Afghan Army's western core commander, said earlier that police and government troops left the district shortly before noon local time today.
RFE/RL's Radio Free Afghanistan correspondent in the area reported that the Taliban operation began about 4 a.m. local time, and that the district administrator and the chief of police have been missing since Taliban overran their administrative headquarters at about noon local time today.
Farah Governor Khan also has said that government forces were forced to abandon the district.
The attack comes one day after a roadside bomb targeted Farah's police chief as he returned from destroying poppy fields in the area. The police chief was unhurt in the attack, but four police officers in his vehicle were killed and two were wounded.
Bakwa is the second Afghan provincial town to be seized by Taliban fighters this month.
About 150 kilometers to the east, in Helmand Province, the Taliban have controlled the town of Musa Qala since they seized it on February 2.
(with material from AP, AFP)

The Afghan Insurgency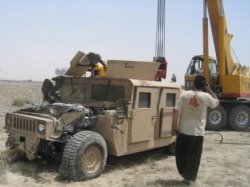 A U.S. military vehicle damaged by insurgents near Kandahar (epa)
HOMEGROWN OR IMPORTED? As attacks against Afghan and international forces continue relentlessly, RFE/RL hosted a briefing to discuss the nature of the Afghan insurgency. The discussion featured Marvin Weinbaum, professor emeritus of political science at the University of Illinois at Urbana-Champaign, and RFE/RL Afghanistan analyst Amin Tarzi.
LISTEN
Listen to the entire briefing (about 83 minutes):
Real Audio
Windows Media
ARCHIVE
RFE/RL's
coverage of Afghanistan
.
SUBSCRIBE
For weekly news and analysis on Afghanistan by e-mail,
subscribe to "RFE/RL Afghanistan Report."