Iran's Fourth Assembly Of Experts Convenes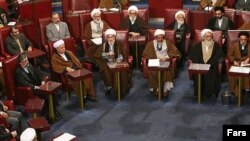 The opening of today's session of the Assembly of Experts (Fars) February 20, 2007 -- Iran's fourth Assembly of Experts convened today with an inaugural ceremony for its 86 newly elected members.
Each member will serve for two years in the assembly.
The constitutional body has the power to choose and remove Iran's supreme leader, as well as to monitor his performance.
But although it meets twice a year, few details about its work are made public.
(IRNA)

SUBSCRIBE For regular news and analysis on Iran by e-mail,
subscribe to "RFE/RL Iran Report."