Annadurdy Khajiev is a senior member of the exiled opposition Watan party.
Police said he was arrested on February 19 in the Black Sea port city of Varna following notification by Interpol.
Khajiev's supporters said his arrest was politically motivated and demanded his immediate release.
The Watan party said in a statement that Khajiev's family was constantly persecuted in Turkmenistan. Khajiev's sister, RFE/RL reporter Ogulsapar Muradova, died in prison in Turkmenistan in 2006 after a trial described by international human rights groups as unfair.
Watan accused Bulgarian authorities of "deliberately cooperating with one of the most repressive dictatorships in the world." It asked the European Union to pressure new EU member Bulgaria to stop what it called an "illegality."
(Reuters)
Turkmenistan's Presidential Election
Turkmenistan's Presidential Election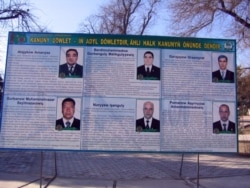 A billboard in Ashgabat with portraits of the candidates in the February 11 election (OSCE)


SIGNS OF CHANGE? Reporters Without Borders analyst Elsa Vidal and RFE/RL Kazakh Service Director Merkhat Sharipzhanov led an RFE/RL briefing in Prague about the significance -- or lack thereof -- of Turkmenistan's first-ever competitive presidential election.
LISTEN
Listen to the entire briefing (about 60 minutes):

Real Audio
Windows Media
RELATED ARTICLES
Could Presidential Vote Open New Chapter?
Sorting Out The Presidential Candidates
Presidential Campaign Reflects Latent Social Tensions
Campaign Opens With Surprising Promises Of Reform
ARCHIVE
RFE/RL's coverage of
Turkmenistan
.