Bomber Strikes Afghan Base During Cheney Visit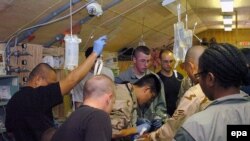 U.S. medical personnel treat a victim of today's bombing (epa) February 27, 2007 (RFE/RL) -- A suicide bomber today attacked the front gates of Bagram Air Field, where U.S. Vice President Dick Cheney was visiting, RFE/RL's Radio Free Afghanistan reported.
There are conflicting reports on casualties from the attack, which occurred while Cheney was there, though he was not near the explosion and was never in danger, his spokeswoman said.
Taliban Suspected
A Taliban fighter is suspected to have been driving the explosives-laden vehicle at the entrance to Bagram, the main logistics center for foreign forces in Afghanistan.
Mehran Khan, an Afghan police officer investigating the attack, says the bomber managed to get his vehicle just inside the gate -- but not beyond the first checkpoint.
Cheney arrived at Bagram on February 26 and reportedly was still there when the attack occurred. He left Bagram shortly after the attack and held talks with Afghan President Hamid Karzai in Kabul, which is about 60 kilometers from Bagram.
There have been conflicting reports on casualties in the attack. Lieutenant Colonel Angela Billings, a spokeswoman for the NATO-led International Security Assistance Force, told RFE/RL today that "a number of Afghan and military personnel" were killed by the attack at about 10:30 in the morning local time.
"Initial reports indicate that four people were killed in the blast, including the suicide bomber," she said. "Approximately 23 people were injured in the attack and are being treated at Bagram Medical Facility. The extent of their injuries is unknown at this time."
At Least 18 Killed
Meanwhile, the U.S. military has confirmed that at least one U.S. soldier and one member of the Afghan National Army are among the dead.
But Basir Salangai, the deputy governor of Parwan Province, tells RFE/RL that Afghan officials have recovered the remains of some 20 people who were killed.
"It is 100 percent certain that about 20 people were killed and five people were injured," he said. "The body of a person also has been found -- and it is very likely that he committed the suicide attack. And they think he is an Afghan."
The bombing occurred at the first checkpoint that truck drivers and Afghan workers arrive to enter Bagram's sprawling military compound. It is several kilometers -- and three security checkpoints -- from the innermost residential facilities of Bagram where Cheney was staying.
Mehran Khan, an Afghan police officer investigating the attack, says the bomber managed to get his vehicle just inside the gate -- but not beyond the first checkpoint.
Most Casualties Civilians
"The bomber somehow got through the gate into the base," Khan said. "He blew himself up, killing [about] 18 people. It was 10:15 local time. I saw the bomber's body at the site and I saw the explosive material next to his body."
A crowded Afghan market sprung up just outside of Bagram's front gate after U.S. forces made the airfield their logistical center in Afghanistan in late 2001.
Scores of Afghan children gather at the gate every day asking for handouts from soldiers, contractors, journalists, or the long lines of truck drivers waiting to pass through security.
Salangai says that is why so many Afghan civilians were killed and injured by today's blast.
"It was at the front gate," he said. "All the people were standing close when the explosion occurred. So, of course, there were many injured and dead."
Western news agencies quote a purported Taliban spokesman, Qari Yousef Ahmadi, as saying that the Taliban carried out the attack.
Another purported Taliban spokesman, Mullah Hayat Khan, says the bomber knew Cheney was visiting the airfield and wanted to target him.
(RFE/RL's Radio Free Afghanistan correspondent Khaled Nawisa contributed to this report from Bagram.)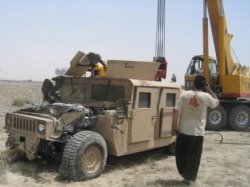 A U.S. military vehicle damaged by insurgents near Kandahar (epa)
HOMEGROWN OR IMPORTED? As attacks against Afghan and international forces continue relentlessly, RFE/RL hosted a briefing to discuss the nature of the Afghan insurgency. The discussion featured Marvin Weinbaum, professor emeritus of political science at the University of Illinois at Urbana-Champaign, and RFE/RL Afghanistan analyst Amin Tarzi.
LISTEN
Listen to the entire briefing (about 83 minutes):
Real Audio
Windows Media
ARCHIVE
RFE/RL's
coverage of Afghanistan
.
SUBSCRIBE
For weekly news and analysis on Afghanistan by e-mail,
subscribe to "RFE/RL Afghanistan Report."