But David Satterfield, the top State Department adviser on Iraq, said U.S. officials would limit any discussion with the Iranians and Syrians to ways to secure a peaceful and democratic Iraq.
Iran and Syria have denied U.S. allegations that they are fueling violence in Iraq.
"Our hopes for [the March 10] conference are that all the countries participating in the conference come prepared to be constructive and have a good conversation about the issues on the agenda," U.S. State Department spokesman Sean McCormack told a news briefing in Washington on March 8. "High up on that agenda are going to be security-related issues. The Iraqis are setting that agenda. And it is an opportunity for neighbors to express support for Iraq in their efforts to secure their borders."
The United States cut off official diplomatic relations with Iran following the 1979 Islamic revolution and the storming of the U.S. Embassy in Tehran.
Pressure has mounted on U.S. officials to seek cooperation from Damascus and Tehran as opponents of the U.S.-backed Iraqi government maintain their violent campaign.
Political pressure has increased on President George W. Bush's administration since midterm elections in November handed the Democrats a majority in both houses of the U.S. Congress.
Democratic lawmakers in the Senate and House of Representatives on March 8 unveiled proposals calling for the withdrawal of U.S. combat forces from Iraq as early as the end of March 2008.
The United States is also leading international efforts to curb Iran's nuclear activities, which Washington alleges are aimed at developing weapons.
EU Keen On Syrian Contacts
Reuters today quoted Irish Foreign Minister Dermot Ahern as saying today that the European Union intends to renew senior contacts with Syria by sending EU High Representative for Common Foreign and Security Policy Javier Solana to Damascus.
Solana would discuss Lebanon and Mideast issues, Ahern said on the sidelines of a two-day EU summit, adding that Brussels is increasingly aware of Syria's influence in the region.
(compiled from agency reports)
On The Verge Of Civil War
On The Verge Of Civil War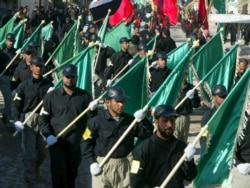 The Imam Al-Mahdi Army on parade (epa)
HAS THE CONFLICT IN IRAQ BECOME A CIVIL WAR? Many observers have concluded that the tit-for-tat sectarian violence that emerged after the February 2006 bombing of a mosque in Samarra has become a full-blown civil war.... (more)


RELATED ARTICLES
U.S. Media Starts Using 'Civil War' Label
Iraqi Prime Minister Under Fire From All Sides
U.S. Expert Discusses Prospects For Stabilization
President Says Iraq Needs Iran's Help
Saudi Arabia To Seal Off Border With Security Fence

THE COMPLETE PICTURE:
Click on the image to view RFE/RL's complete coverage of events in Iraq and that country's ongoing transition.