Around 31 million people were eligible to vote in the regional polling, or nearly one-third of the electorate.
Liberal opponents of the Kremlin were removed from ballots in four regions, including St. Petersburg, sparking accusations of official foul play.
Scattered minor protests were reported during the day.
Three people were reported arrested after a smoke bomb was thrown into a polling station in Odintsovo, near Moscow, where the banned leftist National Bolshevik Party supporters were protesting.
One of those detained cried out "We are against elections without choice" as he was dragged away by police.
"The National Bolshevik Party will not tolerate the arbitrary rule by the authorities," a party supporter said at the same gathering. "We demand the [National Bolshevik Party] be able to take part in 2007 elections to the Russian Duma, as well as all other Russian political parties which were barred from elections by the Russian Justice Ministry and the Central Electoral Commission by order of the Kremlin. We consider elections without the participation of the National Bolshevik Party and other political parties who don't want to follow the Kremlin rules illegitimate."
The voting -- to fill regional assemblies and mayorships -- is seen as a preview of Duma elections in December and the presidential poll to replace Vladimir Putin in 2008.
Commentators said ahead of the polls that the Unified Russia party -- supported by President Vladimir Putin -- looked set to win.
Grigory Yavlinsky, leader of the opposition Yabloko party, has urged supporters to pencil in the party's name as a protest vote in regions where it has been shut out of the elections, including Putin's stronghold of St. Petersburg.
Early results were expected to emerge late on election day.
(with material from Reuters)
Democracy In Russia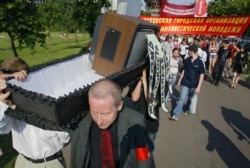 Demonstrators in Moscow carry a coffin with a television in it to protest government control over broadcasting (TASS file photo)


DO RUSSIANS LIKE THEIR GOVERNMENT? During a briefing at RFE/RL's Washington office on November 15, Richard Rose, director of the Center for the Study of Public Policy at the University of Aberdeen, discussed the results of 14 surveys he has conducted since 1992 on Russian public opinion about democracy and the country's development. He discussed the implications of these opinions for relations with the West and for Russia's 2008 presidential election.
LISTEN
Listen to the complete discussion (about 42 minutes):

Real Audio
Windows Media
RELATED ARTICLES
U.S. Election Expected To Chill Relations With Moscow
Are Mayors Next 'Power Vertical' Victim?
Monarchist Nostalgia Remains Powerful
Russian Election Commission Rejects Third-Term Appeal
Romanov Burial May Be Part Of Kremlin Image Campaign
ARCHIVE
All of RFE/RL's English-language coverage of
Russia
.


UPDATED CONSTANTLY: Visit RFE/RL's Russian-language website, featuring news, analysis, features, streaming audio, and more, in Russian, from RFE/RL's Russian Service.