It's a forum that is normally used only by President Vladimir Putin, leading to speculation that Medvedev is stepping up his bid for the presidency.
Thousands of questions have reportedly already been sent to the address created for Medvedev's conference (voprosy.yandex.ru/db). But the ones he actually faces are not likely to be politically probing.
Medvedev's Internet debut is strictly limited to questions about Russia's national projects on health, education, housing, and agriculture, which Medvedev has been overseeing since November 2005.
Anton Nosik, head of the Soup blog service, says the restrictions make it clear that Medvedev won't be facing any sensitive issues during today's live session, which will be broadcast live on the websites vesti.ru, izvestiya.ru, and rost.ru, as well as the Yandex site.
"It's the first time that I can remember an Internet press conference where asking a question that is not about the national projects is grounds for having that question be rejected by the moderator," Nosik says. "This means that -- taking into account the experience of Putin's press conference last year -- there is considerable freedom for the moderator to intercept inconvenient questions."
Medvedev, 41, is considered one of the two leading candidates to succeed Vladimir Putin in presidential elections next year.
The other, 54-year-old former Defense Minister Sergei Ivanov, was recently promoted to first deputy prime minister -- the same rank as Medvedev -- thus adding to the speculation that Putin will tap one of them as his heir.
Aleksei Makarkin of the Center for Political Technologies says it's still too early to make any reliable predictions.
"The president will announce this some time closer to the parliamentary vote [in December 2007], or when the parliamentary vote is already under way," Makarkin says. "Right now, however, Dmitry Medvedev is certainly considered one of the most likely candidates to succeed Putin. I think he simply needs to gain some fame and foster positive ties with different electoral groups."
While many observers believe Ivanov is supported by the "siloviki" camp of former security service officials, Medvedev is widely seen as representing the Kremlin's more liberal forces.
He was the highest-ranking Russian official to attend the Davos World Economic Forum in January.
Russia Beyond 2008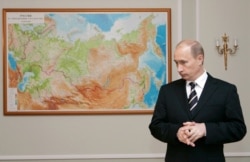 President Putin is mulling his political future (epa)

THE 2008 QUESTION: President Vladimir Putin's second term of office ends in the spring of 2008. Since the Russian Constitution bars him from seeking a third consecutive term, this event threatens to present a crisis in a country that has a history of managed power transitions. Already, Russian politics are dominated by the ominous 2008 question.
RFE/RL's Washington office hosted a briefing to discuss the prospects of Putin seeking a third term. The featured speakers were RFE/RL Communications Director Don Jensen and political scientist Peter Reddaway of George Washington University.
LISTEN
Listen to Don Jensen's presentation (about 16 minutes):
Real Audio
Windows Media
LISTEN
Listen to Peter Reddaway's presentation (about 35 minutes):
Real Audio
Windows Media
RELATED ARTICLES
Will Putin Pursue Third Term, Or Will It Pursue Him?
Could Yakunin Be 'First-Called' As Putin's Successor?
Putin Again Says He Won't Run For Third Term But Will 'Work' For Russia
Interview: Former Premier Kasyanov Warns Of Political Crisis
Former Premier Kasyanov Announces Run For President
ARCHIVE
RFE/RL's English-language
coverage of Russia
.

SUBSCRIBE
For news and analysis on Russia by e-mail,
subscribe to "RFE/RL Russia Report."