"I had been collecting signatures," Sokolov said. "And at the bottom of the list were written my details. 'Sokolov, Vitaly Mikhailovich.' My passport number. That I live at Svetlanovsky Avenue No. 46, Building 1. But the police said my address didn't exist. They said there's a No. 46, but no Building 1. Although in my passport it's written that I live at No. 46, Building 1. And on the sign on our building says No. 46, building 1. But there's no getting through to these people."
The Yabloko party, which has a relatively strong support base in St. Petersburg, was taken off the ballot in February after the local election commission declared that more than 10 percent of its signatures were invalid.
"It's a bit like the Russian saying goes: it's difficult to prove that you're not a camel," a Yabloko official said.
MORE: Follow election coverage in Russian from RFE/RL's Russian Service.
In other regions, the opposition Union of Rightist Forces and the Communist Party have also been barred from running in the elections, though in some places they have been reinstated following appeals.
No Friends Of Matviyenko
Mikhail Amosov, a member of parliament in the Yabloko faction in St. Petersburg, says he sees the hand of the Petersburg government, led by Valentina Matviyenko, in his party's exclusion from the vote.
"Yabloko is a popular party, that's the first thing," Amosov said. "Secondly, it's an opposition party. In the current parliament in St. Petersburg there are three members from the Yabloko faction, and we were the only three deputies to vote against the appointment of Valentina Matviyenko to the post of governor. It seems that this is very inconvenient for them and a lot of people don't like it."
Following the local election commission's decision to remove Yabloko from the poll, the party took its appeal to Moscow, bringing with them some of the people who were told their signatures were not valid. But the Central Election Commission ruled that the handwriting was not theirs and that Yabloko could not participate.
"Of course we're not able to fight against this," Amosov said. "It's a bit like the Russian saying goes: it's difficult to prove that you're not a camel."
Now Yabloko is calling for its voters to protest the election by spoiling their ballot papers.
"Generally speaking, we don't see a party that's close to us, that we could say to our supporters -- 'we're not running, so vote for them," Amosov explains. "We thought for a long time about how we should proceed, and we've said, 'OK, let's vote for all the parties at the same time.' On the ballot papers there are six boxes, opposite the six candidates, so let's go to the polling station and put six ticks or six crosses. Or you could write "Yabloko" in the boxes -- that's six letters [in Russian] or 'against.' That's a way to spoil your ballot paper. Because the spoilt ballot papers have to be counted."
A Bid To Marginalize The Opposition?
Some voters in St. Petersburg said they were angry at the decision to remove Yabloko.
"It's a complete and utter disgrace," says Lyubov Yezheleva, who works for a nongovernmental organization. "Because in this region, Yabloko had a lot of support. And those members of the local parliament who have joined forces with Yabloko are the most authoritative people there, they are well known to people for the good things they do, for being the most upstanding, the most trusted in the whole place. How can they be deprived of standing in the elections? I just can't understand it."
Sokolov, the retired teacher, said he would vote another way.
"I'm voting for the Communists. But I think taking Yabloko out of the election was an order. Who gave the order? It's hard to say. I can only guess," he says with a chuckle.
Some commentators have said it is an attempt by the Kremlin to marginalize small, opposition parties before parliamentary elections later this year. Recent changes in the law have made it more difficult for small or independent factions to enter parliament.
But the government denies the claims, saying there will be a free and fair race between the two main parties, Unified Russia and A Just Russia. Both parties are fiercely loyal to the Kremlin.
Russia's Democratic Development
Russia's Democratic Development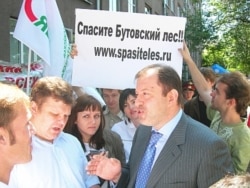 Demonstrators speak with local politicians in Butovo about the destruction of a local forest in July 2006 (RFE/RL)

IS RUSSIAN DEMOCRACY MANAGING? Russian President Vladimir Putin has said Western powers seek to pressure Russia under the pretext of concern over its democratic development. He has said Russia is ready to listen to "well-intentioned criticism," but will not allow anyone to interfere in its internal affairs. The Kremlin has been criticized for stifling political oppostion, increasing central control over the media, and cracking down on the work on nongovernmental organizations.
RELATED ARTICLES
Concerns Raised About Moscow Chairing Rights Committee
Using Racism Is A Time-Honored Kremlin Tool
Putin Comes Under Fire At Global Media Congress
Oligarch's Case A Sign Of The Times
'Letter Of 100' Warns That Putin Is Suppressing Democracy
A Hard-Line Agenda For Putin's Second Term
Book Says Putin's Russia Falls 'Between Democracy and Dictatorship'
NGOs Denounce Status Changes As Move To Curb Activities
Scrutiny Of Foreign Funds Hurts Democracy Programs
U.S. Official Says Russian NGO Law Part Of Antidemocratic Trend

SUBSCRIBE
For news and analysis on Russia by e-mail,
subscribe to "RFE/RL Russia Report."