Several groups in Kazakhstan are calling for Ertisbaev's dismissal. The minister, however, is a close friend of the country's president, Nursultan Nazarbaev, and Ertisbaev is rejecting calls for his removal.
Kazakhstan does not have the most media-friendly environment, as opposition journalists and independent media outlets have learned where the boundaries are in their reporting.
"This is a shameful incident. On the one hand we have heard such things about [Ertisbaev] already, now you see we have real facts."
Likewise, state officials have often treated the media with something resembling contempt.
But as Ertisbaev is finding out, there are boundaries beyond which even state officials cannot cross when it comes to the media.
Earlier this month Ertisbaev demanded that journalists from the independent television station Era leave a press conference. The incident was filmed and shown by Era TV and television station Channel 31.
Dos Koshim, the head of the NGO Destiny of the Nation, was one of those who saw Ertisbaev on television.
"We were witness to very shameful behavior by Kazakhstan's minister of information and culture," he said. "I would call it the highest peak of uncultured behavior to speak like that, to behave like a regional boss of the [Soviet] past, saying I will give you this and take that from you."
The incident certainly provoked a response that included criticism from Seitkazy Mataev, the head of Kazakhstan's Union of Journalists, an organization that usually does not criticize state officials.
"This is a shameful incident," Mataev said. "On the one hand we have heard such things about him (Ertisbaev) already, now you see we have real facts. Channel 31 and the Era channel aired everything. I spoke to Mirbulat Kunbaev [the chairman of Era TV]. He is going to sue Ertisbaev. We, the Union of Journalists of Kazakhstan and the Adil Soz foundation, will help him [with his case]."
Adil Soz monitors media freedom not only in Kazakhstan but Central Asia in general. The organization's chairwoman, Tamara Kaleeva, said Kazakhstan's laws forbid denying selected media outlets the opportunity to report on news events.
"It is a violation of the law on the media," he said. "Equal access has nothing to do with ownership."
The Union of Journalists of Kazakhstan and Adil Soz cowrote an open letter to Kazakh President Nursultan Nazarbaev demanding that Ertisbaev be dismissed from his post.
Ertisbaev is unapologetic about the entire incident. Asked recently by RFE/RL if he intended to resign, Ertisbaev answered: "I do not intend to resign. I will when I want to," he said.
Ertisbaev was asked if he had ordered the Era crew to leave the news conference.
"Okay, let's say I prohibited it [from filming]," he said. "So what?"
Ertisbaev said he would sue Era TV and maybe also the independent weekly Russian-language newspaper "Vremya," which also reported on Ertisbaev's attitude toward independent journalists. "Vremya," in turn, plans to sue Ertisbaev.
Ertisbaev may have aggravated the situation when he appeared on television after the incident.
According to the him, an editor at "Vremya" called him and, in front of the cameras, Ertisbaev said: "I told him not to call me anymore. He asked me 'why?' and I said because you are repulsive," Ertisbaev said.
Ertisbaev made a few other comments about "Vremya" that some people, like "Vremya" editor Marat Asipov, consider derogatory.
"He uttered an offensive statement addressed to the editorial staff and the chief editor of the newspaper," he said.
In Asipov's opinion, these comments are not what is expected from a government official.
"This is not an acceptable statement from our point of view, unacceptable for a minister but in general unacceptable for anyone to speak like that," Asipov said.
Normally it could be expected that Ertisbaev would at least be censured for arousing such controversy. But Ertisbaev is a friend of President Nazarbaev and has in the past lashed out at Nazarbaev's opponents while the Kazakh president remained silent.
This tendency has earned Ertisbaev the nickname among some people of being "Nazarbaev's nightingale."
Vadim Boreiko, another editor at "Vremya," said whether he is a friend of not, Ertisbaev's conduct deserves administrative punishment.
"When a nightingale gets bird flu you have to save yourself from it, irregardless of who owns it or what your political positions are," Boreiko said.
The open letter authored by the Union of Journalists of Kazakhstan and Adil Soz has made its way to the country's new prime minister, Karim Masimov.
Only in office since January, Masimov is taking the matter seriously and earlier this week told Ertisbaev: "I order you to in two days prepare an official report addressed to me and to answer all the questions I am being asked [by others about you]."
On March 15, Union of Journalists of Kazakhstan chief Mataev asked Masimov on television whether Ertisbaev has responded to his request. The prime minister said that he had not.
(Merhat Sharipzhan of the Kazakh Service contributed to this report.)
Exporting Kazakhstan's Energy
Exporting Kazakhstan's Energy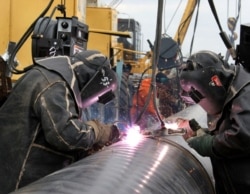 Work on a Kazakh pipeline (TASS file photo)


PRESSURE FROM THE KREMLIN? Columbia University political science professor Kimberly Marten told an RFE/RL briefing that Russia seems to be using its control of gas pipelines in the former Soviet Union to pursue its goals in Kazakhstan.
LISTEN
Listen to the entire briefing (about 60 minutes):

Real Audio
Windows Media
RELATED ARTICLES
The Emerging Post-Soviet Petrostates
Nazarbaev, Merkel Discuss Energy, Bilateral Ties
Nazarbaev Talking Energy, Economic Cooperation On China Visit
ARCHIVE
RFE/RL's coverage of
Kazakhstan
.