Prime Minister John Howard announced that Australia's total military deployment in Afghanistan will reach 950 troops by the middle of this year and will increase to around 1,000 by the middle of 2008.
Currently, some 550 Australian Defense Force troops are in Afghanistan.
Howard said southern Afghanistan appears to be becoming more dangerous due to Taliban attacks and that Australians should prepare themselves for possible casualties among Australian forces.
Howard said he had discussed the Australian deployment with Afghan President Hamid Karzai and U.S. commanders.
"We have done this against the background of a deterioration in the security environment in southern Afghanistan, which has been apparent, against [the background of] our strong belief that it is in Australia's national interest to prevent Afghanistan -- as indeed is again in our national interest to prevent Iraq -- from becoming a safe haven for terrorism," Howard told journalists in Canberra today.
The fresh Australian troops are to be sent to Oruzgan Province in southern Afghanistan to help disrupt Taliban operations.
(AP, Reuters)
The Afghan Insurgency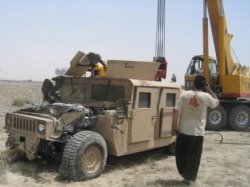 A U.S. military vehicle damaged by insurgents near Kandahar (epa)
HOMEGROWN OR IMPORTED? As attacks against Afghan and international forces continue relentlessly, RFE/RL hosted a briefing to discuss the nature of the Afghan insurgency. The discussion featured Marvin Weinbaum, professor emeritus of political science at the University of Illinois at Urbana-Champaign, and RFE/RL Afghanistan analyst Amin Tarzi.
LISTEN
Listen to the entire briefing (about 83 minutes):
Real Audio
Windows Media
ARCHIVE
RFE/RL's
coverage of Afghanistan
.
SUBSCRIBE
For weekly news and analysis on Afghanistan by e-mail,
subscribe to "RFE/RL Afghanistan Report."