The case has sparked political turmoil in Rome and Kabul, where authorities have accused the Italian NGO Emergency, which negotiated the reporter's release, of collusion with the Taliban. The NGO runs hospitals and first-aid points across Afghanistan, but is now threatening to leave.
Emergency, which says it has cared for more than 1.4 million Afghans since 1999, claims the Afghan government has now declared war on it.
Foreign Minister D'Alema called Emergency's work in Afghanistan vital and said Afghan authorities had given their full support to efforts to free Mastrogiacomo through negotiations with the Taliban.
'Declaration Of War'
Emergency Vice President Carlo Garbagnati spoke to Italian reporters on April 11 following reports that Amrullah Saleh, the head of the Afghan secret services, had accused the Milan-based organization of collusion with the Taliban.
"The [spokesman] of the head of the Afghan secret services, Amrullah Saleh, has called us a terrorist organization, or para-terrorist organization," Garbagnati said. "If that were just an insult, we would simply ignore it. Instead, it's a declaration of war from the head of the secret services. It's a frightening situation for us to be put it."
As a result, Emergency decided to pull its 40 foreign staffers out of the country that same day.
The group says its Afghan staff for now will continue to run its network of three surgical hospitals, a maternity center, 25 first-aid points, and six prison hospitals and clinics.
But Emergency, which is opposed to the U.S.-led military operation in Afghanistan, says it could review its entire operations there following Saleh's reported comments and the arrest of the head of its hospital in the southern town of Lashkar Gah.
Reports say the Afghan authorities accuse hospital director Rahmatullah Hanefi, who was arrested shortly after helping negotiate the release of Daniele Mastrogiacomo, of colluding with the Taliban in the Italian reporter's abduction. The reporter was freed in exchange for five Taliban prisoners.
Earlier this week, Mastrogiacomo's interpreter, still held by the Taliban, was killed by the militant group, which had earlier beheaded his driver.
A Political Agenda?
The government of Afghan President Hamid Karzai was embarrassed by the hostage-exchange deal, with some in the country accusing Karzai of valuing the life of a foreign hostage more than those of Afghans.
After Mastrogiacomo's release, Karzai vowed no more prisoner swaps with the Taliban.
Emergency's Garbagnati says that in his opinion, Afghan authorities are punishing Hanefi and his organization because their hospitals treat all Afghans, regardless of political persuasion.
"I guess we are 'colluders with terrorists' in this sense: that we give medical treatment to anyone who needs it, regardless of their uniform, their ideas, their background, their projects, their thoughts," he said. "I believe this is the kind of behavior that any reasonable person on Earth would praise."
But some independent observers, while lauding Emergency's humanitarian role, question its neutrality in Afghanistan's political playing field.
Giovanni Gasparini, a defense and security analyst with Rome's Institute of Foreign Affairs, says Emergency, which started operating in Afghanistan under Taliban rule, "definitely speaks with the devil" in order to survive there.
Moreover, Gasparini tells RFE/RL that Emergency has a clear leftist political agenda, which includes using its prestige to push for a withdrawal of Italian NATO troops from Afghanistan.
"What they are doing [in their hospitals] is very nice, I'm not arguing against that in any way," Gasparini said. "But the fact is that they are using the image power that they receive from that to pursue an ideological agenda. They are not saying: 'Listen, our job is just to stay here and save people. Our mission is to save people and say that the war is bad, and the Americans are bad, and the [Italian] soldiers should leave, and so on.' So you see, this is not the Red Cross."
'Vital' Humanitarian Work
Today, Foreign Minister Massimo D'Alema opened a session of parliament with an address that sought to clarify Italy's role in negotiating Mastrogiacomo's release, which has been criticized by the United States and other NATO allies.
D'Alema called Emergency's humanitarian work in Afghanistan vital. He also said Afghan authorities had given their full support to Italian efforts to free Mastrogiacomo through negotiations with the Taliban conducted by Emergency's Hanefi.
In a separate interview, D'Alema has also suggested that Rome, which has 2,000 peacekeepers in Afghanistan, has done all it can to persuade Kabul to free Hanefi.
Opposition View
However, center-right opposition leader Gianfranco Fini took issue with D'Alema's portrayal of events.
Fini accused Prime Minister Romano Prodi's government of threatening to pull Italy's troops from Afghanistan unless the Karzai government agreed to swap Taliban prisoners for Mastrogiacomo.
Fini said that, according to his information, Karzai never wanted to make a prisoner swap, but that his hand was forced by Prodi's alleged threat. The former Italian foreign minister also cast doubt on Hanefi's role.
"If, as we believe, Karzai gave in only because Prodi floated the possibility of a withdrawal, then one can't complain that immediately after [Mastrogiacomo's release], Karzai took a hard line," Fini said. "That 'hard line' is the arrest of Hanefi who, according to everyone who knows Afghanistan, is the liaison between Emergency and the Taliban."
Emergency founder Gino Strada has repeatedly defended Hanefi from such accusations, calling him a "man of peace."
Strada says his group could shut down its entire Afghan operation unless Hanefi is freed.
With civilian casualties mounting by the day in the war-torn south, it remains unclear whether Kabul is ready to pay that price. Strada, for his part, has insisted that Emergency does not want to leave Afghanistan.
So far, the Afghan government has yet to comment, though one official, quoted today by Italian news agency ANSA, expressed "dismay" with Emergency's decision to pull out its international staff.
The Afghan Insurgency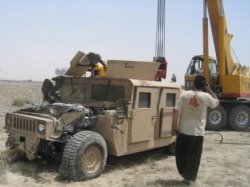 A U.S. military vehicle damaged by insurgents near Kandahar (epa)
HOMEGROWN OR IMPORTED? As attacks against Afghan and international forces continue relentlessly, RFE/RL hosted a briefing to discuss the nature of the Afghan insurgency. The discussion featured Marvin Weinbaum, professor emeritus of political science at the University of Illinois at Urbana-Champaign, and RFE/RL Afghanistan analyst Amin Tarzi.
LISTEN
Listen to the entire briefing (about 83 minutes):
Real Audio
Windows Media
ARCHIVE
RFE/RL's
coverage of Afghanistan
.
SUBSCRIBE
For weekly news and analysis on Afghanistan by e-mail,
subscribe to "RFE/RL Afghanistan Report."