Thousands Of Italians Demonstrate For Afghans' Release
The Afghan secret services have been accused of abducting Rahmatullah Hanefi after he helped negotiate Mastrogiacomo's release (PeaceReporter) (Courtesy Photo) March 31, 2007 (RFE/RL) -- Some 20,000 Italians demonstrated in Rome today for the release of two Afghans, one held by the Taliban, the other reportedly by the government.
Protesters urged the Italian government to push more strongly for the release of Adjmal Naqshbandi and Rahmatullah Hanefi.

Naqshbandi, still in Taliban hands, was the interpreter of abducted Italian reporter Daniele Mastrogiacomo, who was released by the Taliban nearly two weeks ago.
"What [Hanefi] has done is basically to contact the Taliban and pass them a message for us for the liberation of these hostages." -- Emergency founder Strada
The nongovernmental organization Emergency claims that Hanefi, the director of the group's hospital in the southern town of Lashkar-gah, was abducted on March 20 by Afghan secret services.

Hanefi, on behalf of the Italian government, had just helped negotiate Mastrogiacomo's release in exchange for five Taliban prisoners.

"Rahmatullah has done nothing wrong," Emergency founder Gino Strada told RFE/RL before today's rally. "He has done what Emergency has requested him to do, which was again requested to Emergency by the Italian government. And what he has done is basically to contact the Taliban and pass them a message for us for the liberation of these hostages."

The Milan-based NGO, which operates in war zones around the world, has three hospitals and nearly 30 first-aid posts in Afghanistan. It has threatened to curtail its work in Afghanistan if Hanefi is not released.
The Afghan Interior Ministry has yet to respond to RFE/RL inquiries.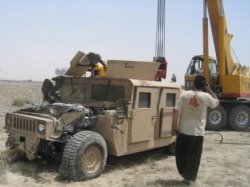 A U.S. military vehicle damaged by insurgents near Kandahar (epa)
HOMEGROWN OR IMPORTED? As attacks against Afghan and international forces continue relentlessly, RFE/RL hosted a briefing to discuss the nature of the Afghan insurgency. The discussion featured Marvin Weinbaum, professor emeritus of political science at the University of Illinois at Urbana-Champaign, and RFE/RL Afghanistan analyst Amin Tarzi.
LISTEN
Listen to the entire briefing (about 83 minutes):
Real Audio
Windows Media
ARCHIVE
RFE/RL's
coverage of Afghanistan
.
SUBSCRIBE
For weekly news and analysis on Afghanistan by e-mail,
subscribe to "RFE/RL Afghanistan Report."