U.S. Concerned Over Afghan Hostage Trade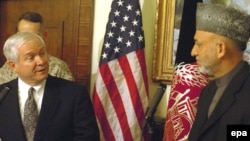 Robert Gates (left) with Afghan President Hamid Karzai in Kabul in January (epa) March 23, 2007 -- U.S. Defense Secretary Robert Gates says he's concerned about the deal in which five Taliban fighters were released in exchange for an Italian journalist who had been kidnapped in Afghanistan.
Gates described the deal as "between the Afghan government and the Italians," but said he was concerned because it allows the released Taliban to resume attacks.
U.S. State Department spokesman Sean McCormack said the United States does not negotiate with terrorists and advises that others not negotiate with them either.
Italian Foreign Minister Massimo D'Alema earlier said he was not sorry to have saved the life of journalist Daniele Mastrogiacomo.
Officials said D'Alema discussed the case in a telephone call with U.S. Secretary of State Condoleezza Rice.
(AFP, AP)
RFE/RL Afghanistan Report

SUBSCRIBE For regular news and analysis on Afghanistan by e-mail,
subscribe to "RFE/RL Afghanistan Report."