The newspaper, "La Repubblica," says it lost contact with reporter Daniele Mastrogiacomo on March 4.
Editor in Chief Ezio Mauro says Mastrogiacomo was on assignment in Kandahar Province in Afghanistan's volatile south. The newspaper is denying Taliban allegations that Mastrogiacomo was involved in espionage.
In Afghanistan, a Taliban spokesman claimed militants detained a Briton on March 5 who told them he had previously worked as a journalist for "La Repubblica."
The Taliban spokesman identified the man as Dan Kell, saying he was a spy for the British military and was captured in the Nad Ali district of Helmand Province.
British and Afghan forces are conducting a military offensive in Helmand Province aimed at eliminating Taliban fighters within a 150-kilometer radius of the Kajaki hydroelectric dam. The battle area includes Helmand's Nad Ali district and parts of neighboring Kandahar Province.
(compiled from agency reports)
The Afghan Insurgency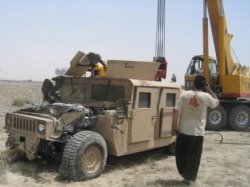 A U.S. military vehicle damaged by insurgents near Kandahar (epa)
HOMEGROWN OR IMPORTED? As attacks against Afghan and international forces continue relentlessly, RFE/RL hosted a briefing to discuss the nature of the Afghan insurgency. The discussion featured Marvin Weinbaum, professor emeritus of political science at the University of Illinois at Urbana-Champaign, and RFE/RL Afghanistan analyst Amin Tarzi.
LISTEN
Listen to the entire briefing (about 83 minutes):
Real Audio
Windows Media
ARCHIVE
RFE/RL's
coverage of Afghanistan
.
SUBSCRIBE
For weekly news and analysis on Afghanistan by e-mail,
subscribe to "RFE/RL Afghanistan Report."