The International Security Assistance Force (ISAF) says the offensive -- code-named Operation Achilles --will eventually involve 4,500 NATO-led troops and nearly 1,000 Afghan soldiers.
The commander of ISAF's Regional Command South, Dutch Major vGeneral Ton van Loon, said the forces were targeting Taliban militants and drug traffickers.
"This operation is targeting Taliban extremists, narcotraffickers, and foreign terrorists who have abused you, the Afghan people, and who have enriched themselves from your hard work," he said today.
Afghanistan is the world's largest producer of drugs from opium poppies. Helmand is expected to have a larger opium poppy harvest this year than any other Afghan province.
The government in Kabul has little control over isolated districts of Helmand Province. British troops and other NATO forces stationed there have been fighting battles almost every day since the start of February.
(AP, AFP, Reuters)
The Afghan Insurgency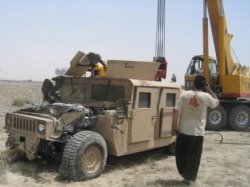 A U.S. military vehicle damaged by insurgents near Kandahar (epa)
HOMEGROWN OR IMPORTED? As attacks against Afghan and international forces continue relentlessly, RFE/RL hosted a briefing to discuss the nature of the Afghan insurgency. The discussion featured Marvin Weinbaum, professor emeritus of political science at the University of Illinois at Urbana-Champaign, and RFE/RL Afghanistan analyst Amin Tarzi.
LISTEN
Listen to the entire briefing (about 83 minutes):
Real Audio
Windows Media
ARCHIVE
RFE/RL's
coverage of Afghanistan
.
SUBSCRIBE
For weekly news and analysis on Afghanistan by e-mail,
subscribe to "RFE/RL Afghanistan Report."