A cortege carrying Yeltsin's coffin arrived today at Moscow's Christ the Savior Cathedral in Moscow, where the former president's body will lie in state.
Hundreds of Russians today lined up outside to pay their respects. As mourners filed into the cathedral, an Orthodox Christian priest read a eulogy praising Yeltsin.
"May Boris Nikolayevich[Yeltsin] remain in our hearts as a courageous, resolute politician, as a selfless patriot who loved his fatherland dearly, as a person devoted to Russia and the ideals of freedom and justice," the priest told mourners.
Yeltsin is to be buried at Moscow's historic Novodevichy Cemetery on April 25 following a memorial service at the Christ the Saviour Cathedral, which was rebuilt during his presidency.
Messages of condolences and tributes to Yeltsin also have been arriving from around the world. In a televised statement late on April 23, Russian President Vladimir Putin, Yeltsin's handpicked successor, praised him as a man under whom "a new democratic Russia was born."
"A man passed away, thanks to whom a whole new epoch was born," Putin said. "A new democratic Russia was born, a free state, open to the world, a state in which power truly belongs to the people. The power of the Russian president came from mass support by the people and citizens of the country in support of his ideas and wishes."
For her part, German Chancellor Angela Merkel told journalists on April 23: "I have expressed my condolences and may I say that Boris Yeltsin was an upright fighter for freedom and democracy, for a new alignment of Russia and a true friend of Germany. The pullout of Russian troops was during his time in office and Germany and its people will always remember him as a great friend of Germany."
Former Polish President Lech Walesa also praised Yeltisn. "The world has forgotten, but it was [Yeltsin] who dissolved the USSR," he said. "It was physically him who did it, not Gorbachev. If he had not done it, then all of the processes then happening in the world would have stopped and receded. We have to thank Yeltsin for everything we have: The free world, the age of intellect, information, and globalization. The world has all of this, thanks to him, so let's bow our heads in his memory and to him."
A day of national mourning will be observed across Russia on the day of Yeltsin's burial. Putin has postponed his annual speech to a joint session of parliament, originally scheduled for April 25, until the following day.
(compiled from agency reports)
FURTHER READING
'Pride Of Place' In New Epoch

Leaders of former Soviet states remember the man who presided over the final days of the USSR and escorted Russia into a rocky decade of economic and political reforms.

more

West Remembers Yeltsin As Historic Figure

Just as in Russia and the former Soviet Union, the memory of Boris Yeltsin as a forceful leader is strong in the United States and Europe.

more
Assessing Boris Yeltsin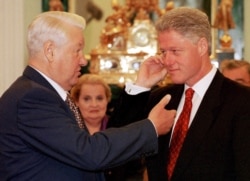 Boris Yeltsin (left) meeting with Bill Clinton in the Kremlin on September 1, 1998 (epa)

CLINTON ON YELTSIN: U.S. President Bill Clinton spoke to reporters in Washington on December 31, 1999, shortly after hearing that Boris Yeltsin had resigned. Here are some of his comments:
"[Boris Yeltsin's] lasting achievement has been dismantling the communist system and creating a vital, democratic process within a constitutional framework. The fact that Prime Minister [Vladimir] Putin assumes responsibility today as acting president, in accordance with the constitution, is the latest example of President Yeltsin's achievement."
"The relationship between the United States and Russia under President Yeltsin has produced genuine progress for both our people. Five thousand strategic nuclear weapons have been dismantled. Our nuclear weapons are no longer targeted at each other. We have worked together to eliminate nuclear weapons from the other states of the former Soviet Union."
"Well, I liked him because he was always very [direct] with me. He always did exactly what he said he would do, and he was willing to take chances to try to improve our relationship, to try to improve democracy in Russia."
"I liked him because I think he genuinely deplored communism. He lived with it, he saw it, and he believed that democracy was the best system. I think it was in every fiber of his being."
"We had our arguments. We had our fights. We had our genuine disagreements about our national interests from time to time, but I think that the Russian people were well served to have a leader who honestly believed that their votes ought to determine who is running the show in Russia and what the future direction of the country should be."
SUBSCRIBE
For news and analysis on Russia by e-mail,
subscribe to "RFE/RL Russia Report."