Khatami is one of the most senior Muslim clerics to visit the Roman Catholic pontiff since the pope made remarks last year that appeared to link Islam with violence.
There's no word yet on what the two discussed, but ahead of the meeting, Khatami told a conference in Rome that the wounds between Christians and Muslims were still "very deep."
He said one meeting with the pope was not enough to heal all those wounds, but said it was at least a joint effort to start the process.
In a speech in September, Pope Benedict quoted a 14th-century Byzantine emperor as saying Islam had only brought evil to the world and that it was spread by the sword.
Today's meeting was Khatami's second with a pope, following an audience with the late Pope John Paul II in 1999, two years after Khatami took office.
(Reuters, AP)

Pope Benedict XVI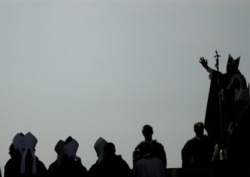 Pope Benedict conducts a Mass in Bavaria in September 2006 (AFP)

FIGHTING SECULARISM, EXTREMISM: On April 19, 2005, German-born Cardinal Joseph Ratzinger was elected pontiff of the Roman Catholic Church. Since becoming Pope Benedict XIV, the pope has labored to combat growing secularism in Europe and growing fundamentalist extremism in the Islamic world. His efforts have sometimes provoked controversy.
RELATED ARTICLES
Pope Expresses 'Deep Respect' For Muslims
Pope's Comments Bring Threats, Condemnation
Pope's Remarks Bring Interfaith Dialogue To Crisis Point
Pope Sparks Controversy With Jihad Remarks
Catholic, Orthodox Churches Unite Against European Secularism
Orthodox And Catholics -- Heading Toward Reconciliation?