The agency quotes an official as saying the two men, both of them manual laborers in a market, appear to have died from head wounds.
The official said that the investigation "will examine various explanations for the murders, including that of racial hatred."
Fifty-four people were killed last year in racist attacks in Russia.
(AFP)
Rising Russian Nationalism
Rising Russian Nationalism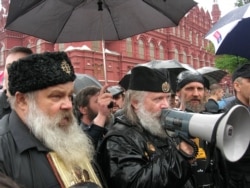 Orthodox believers and nationalists heckling a gay-rights rally in Moscow in May 2006 (RFE/RL)
A THREAT TO CIVIL, RELIGIOUS LIBERTIES: Several leading experts told a briefing hosted by RFE/RL and the U.S. Commission on International Religious Freedom that several mounting trends in Russia are posing a growing threat to human rights, especially for members of the country's ethnic and religious minorities.
LISTEN
Listen to the entire briefing (about 90 minutes):

Real Audio
Windows Media
RELATED ARTICLES
Why Putin Is Going To The Vatican
Bishop Assails Russian Orthodox Church

A thematic webpage devoted to issues of religious tolerance in RFE/RL's broadcast region and around the globe.