Kyrgyz Villagers Block Road To Canadian-Operated Mine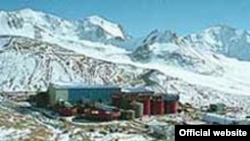 The site of the Kumtor gold mine (file photo) (official site) May 7, 2007 -- About 200 Kyrgyz villagers blocked a road to a Canadian-operated gold mine for a fourth day today.
They are protesting the suspension of compensation payments by the firm Centerra Gold Inc. for damages caused by a 1998 chemical spill in their region.
Centerra Gold is a joint venture that operates the Kumtor mine.
The Canadian firm Cameco Corp. is a major shareholder in Centerra Gold.
(AP)