The signing ceremoney, held in Moscow's opulent Christ the Savior Cathedral, is being held on Ascension, the day commemorating Christ's ascent into heaven.
It brings to an end a bitter division between Russia's predominant church and the splinter church formed by exiles fleeing the Russian Revolution and the rise of the communist state.
The head of the Russian Orthodox Church, Moscow Patriarch Aleksy II, and Metropolitan Lavr (Laurus), the New York-based leader of the Orthodox Church Abroad, signed an agreement on restoring canonical relations.
Patriarch Aleksy hailed the merger as a symbolic break with the shackles of the past.
"We have overcome the division of the churches. We have overcome the legacy of the revolution and civil war from that time, the schism in society," he said. "The church is being strengthened and our homeland is being restored."
Russian President Vladimir Putin, speaking at the ceremony, called the unification a "truly national, historic event of tremendous moral significance."
"The church division occurred as a result of the deepest political split of Russian society following a fierce civil confrontation," Putin said. "In today's Russian society, which is based on the democratic principles of religious freedom, there are no more reasons for this outdated tragedy, for this obsolete confrontation."
Today's ceremony is a key achievement for the Russian Orthodox Church, which since the Soviet collapse has sought to bring the exile church back into its fold.
Four years ago, Aleksy formally recanted the patriarchate's 1927 declaration of loyalty to the atheist Soviet regime.
The unification is viewed as a step toward strengthening the Russian nation as well as the Orthodox Church.
Russian President Vladimir Putin, who attended the ceremony, said restoring the unity of the church is an important step toward "rediscovering the lost unity of the Russian people."
According to the document signed today, the two churches agree to recognize each other's religious hierarchies and celebrations.
The Church Abroad, however, will accept the Moscow Patriarchate as the ultimate authority.

The Russian Orthodox Church
The Russian Orthodox Church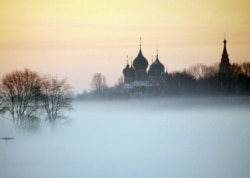 An Orthodox church in the Russian city of Yaroslavl (TASS file photo)

CHURCH AND STATE: The Russian Orthodox Church is not only Russia's major religious confession, but also a powerful force in the political and social life of the country. President Vladimir Putin and other leading figures are conspicuous adherents and frequently meet with senior members of the Church hierarchy. Increasingly in recent years the Church has sought to play a larger role in determining Russia's domestic and foreign policies. In April, the Church hosted a major conference devoted to the theme of Russia's role in the 21st-century world....(more)
RELATED ARTICLES
Orthodox Church Discusses Morality And Human Rights
Russian Church Blames Hate Crimes On Amorality
Orthodox And Catholics -- Heading Toward Reconciliation?
Rights Groups Say Country Intolerant To Minority Religions
Orthodox Church States Its Case For More Involvement In Foreign, Domestic Policies

WEB SPECIAL: A thematic webpage devoted to issues of religious tolerance in RFE/RL's broadcast region and around the globe