The OpenNet Initiative found that 25 countries out of 41 surveyed are blocking websites for political or social reasons, compared to only a few states that restricted web access in 2002.
According to the study, "Internet filtering has huge implications for how connected citizens will be to the events unfolding around them, to their own cultures, and to other cultures and shared knowledge around the world."
It identified China, Iran, Myanmar, Syria, Tunisia, and Vietnam as particularly restrictive in censoring political websites. The study added that several Middle Eastern countries had the most extensive filters for websites that offer pornography or gambling, and gay and lesbian sites.
Azerbaijan, Tajikistan, Turkmenistan, and Uzbekistan were also named among the countries where governments interfere in citizens' access to the Internet.
The study found no website filtering in Russia, Israel, or the Palestinian territories.
The OpenNet Initiative is a collaboration between research institutes at four universities in Canada, Britain, and the United States.
(AP, BBC, opennet.net)

Internet In The Former Soviet Union
Internet In The Former Soviet Union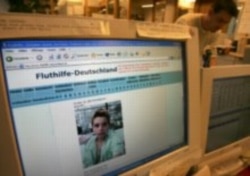 (AFP)
BREAKING THE NEWS: In 2000, Internews and the Center for Democracy and Technology established the Global Internet Policy Initiative (GIPI) to promote an open, democratic, and user-controlled Internet in developing countries. Throughout the former Soviet Union and Central and Eastern Europe, GIPI has worked to bring together local stakeholders and advocate policy reforms that will support development of the Internet as a tool of democratization, economic growth, and human development.
On May 3, RFE/RL's Washington office hosted a roundtable discussion of these issues. Participants included PARVINA IBODOVA, chairman of the Civil Internet Policy Initiative and GIPI Coordinator; BOGDAN MANOLEA, Executive Director of the Romanian Association for Technology and Internet (APTI), an independent NGO that works to promote human rights in the digital environment and support digital civil rights in Romanian society; and experts working in the Internet policy development area from Belarus and Uzbekistan. Internet-policy advocates from Azerbaijan, Kazakhstan, Kyrgyzstan, Macedonia, Russia, and Ukraine also took part in the discussion.
LISTEN
Listen to the entire 90-minute briefing (the first two minutes are low volume):
Real Audio
Windows Media
RELATED ARTICLES
Russia: Authorities Warn Of Cybercrime Epidemic
Belarusian Opposition Embraces Internet
Internet Battle Averted As UN Technology Summit Starts
Rights Group Lists 'Enemies Of Internet' At UN Summit
ARCHIVE
To view an archive of RFE/RL's stories about the Internet, click here.