U.S. Ready To Work With Moscow On Missile Defense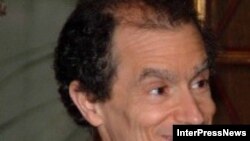 Daniel Fried (file photo) (InterPressNews) May 25, 2007 -- A senior U.S. State Department official says President George W. Bush's offer to cooperate with Russia on missile defense still stands, despite Moscow's contention it will not change its opposition to the project.
Assistant Secretary of State Daniel Fried told a U.S. congressional panel on May 24 that the plan is not aimed at Russia. He said the threat the United States wants to counter comes from "countries in the Middle East."
Meanwhile, Poland said the same day that it could sign an agreement with the United States to house 10 interceptor missiles as part of the missile-defense system within a few months.
Polish Deputy Foreign Minister Witold Waszczykowski made the comments after talks with U.S. Assistant Secretary of State John Rood in Warsaw.
(compiled from agency reports)
FURTHER READING
Rogue Threat

A U.S. official discusses the security threats that Washington feels justifies a missile-defense program.

more

Russia Reacts

Moscow has been uncompromisingly hostile to the U.S. missile-defense proposal.

more