Bush made his remarks today at the Arlington National Cemetery in Virginia, on Memorial Day, the annual commemoration of U.S. war dead.
He said from the deaths of U.S. soldiers "must come a world where the cruel dreams of tyrants and terrorists are frustrated, and foiled," and where "the gift of liberty is secured for millions who have never known it."
Also today, the Kremlin said Bush and Russian President Vladimir Putin have discussed an upcoming summit of the Group of Eight (G8) leading industrialized nations in a telephone conversation.
The Kremlin said the two leaders also "exchanged opinions on current international issues."
They spoke as part of preparations for a June 6-8 meeting of G8 leaders in Germany's Baltic sea resort of Heiligendamm.
(Reuters, dpa, AP)
Thinking Strategically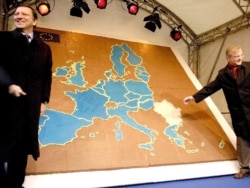 EU officials discussing enlargement at a meeting in December 2006 (epa)
OVER THE NEXT HURDLE: Bruce Jackson, president of the Project on Transitional Democracies, gave RFE/RL a wide-ranging presentation on issues related to European integration in the Balkans and Eastern Europe, as well as strengthening relations between the West and Central Asia.
LISTEN
Listen to the entire briefing (about 60 minutes):

Real Audio
Windows Media
RELATED ARTICLES
Kremlin Sees Its Foreign-Policy Star On Rise
Brussels Mulls Over Its Energy Sources
Experts Ponder Future 'Gas Wars'
The Fate Of The Multivector Model In Central Asia
SUBSCRIBE
For daily news updates from throughout RFE/RL's broadcast region by e-mail,
subscribe to "RFE/RL Newsline."