Marina Litvinenko was responding during a June 3 interview with RFE/RL's Russian Service to claims made last week by the prime suspect in her husband's death by radioactive poisoning.

Defensive Tactic
Andrei Lugovoi, a former KGB agent who has been charged in Britain with the murder of Aleksandr Litvinenko, told a news conference in Moscow on May 31 that Litvinenko was a British spy who was killed by either British special services, exiled Russian businessman Boris Berezovsky, or the Russian mafia.
"Although Lugovoi's statement looked like his personal statement, one could sense that this whole campaign was directed by an organization -- which we can call the FSB." -- Marina Litvinenko
Marina Litvinenko told RFE/RL that she believes Lugovoi made the statement as "a way to defend himself," noting that he had been offered the opportunity to come to London and prove his innocence, but didn't. "It was only after charges were brought against him that he made his allegations public at that news conference," she said.

After British prosecutors announced on May 22 that they would seek murder charges against Lugovoi, he responded by saying that he would hold a press conference that would prove to be "a sensation for British public opinion."

Marina Litvinenko said that the subsequent news conference appeared to be staged.

"Although Lugovoi's statement looked like his personal statement, one could sense that this whole campaign was directed by an organization -- which we can call the FSB -- that it looked like a very well-staged performance in line with the old KGB model," she said.
Lugovoi is a veteran of the KGB and its successor, the Federal Security Service (FSB). He also worked as a bodyguard for Berezovsky, whom Lugovoi accused during his press conference of being employed by Britain's MI6 intelligence agency.

Recruitment Claims
Lugovoi also said he himself was "recruited" by London to provide intelligence on Russian President Putin and his family. Lugovoi also reiterated that he was not involved in Litvinenko's death and that traces of polonium-210, the substance used in the killing, were planted to incriminate him.

Specifically addressing Lugovoi's claims that her husband worked as a spy, Marina Litvinenko said, "I can't say with 100 percent certainty that I was aware of all [Aleksandr Litvinenko's] meetings, whom he met with, or whom he had contacts with, but I can say with 100 percent certainty that I did not live with an intelligence agent."

She added that being an intelligence agent "is associated with a certain lifestyle" and that "in any case, I did not sense or see any such dark spots in [Aleksandr's] life in London."
THE LITVINENKO CASE
Little Chance Of Extradition

Yury Kostanov, a veteran defense lawyer and former employee of the Russian Prosecutor-General's Office, discussed the legal aspects of the case.

more

Film On Case At Cannes

On May 26, the Cannes Film Festival screened "Rebellion: The Litvinenko Case," a documentary by Andrei Nekrasov, a friend of Litvinenko.

more
Aleksandr Litvinenko: A Timeline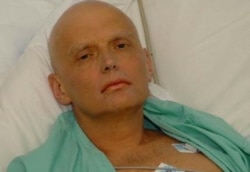 CLOAK AND DAGGER: A timeline of a murder case that unraveled after Andrei Litvinenko, a former Russian security officer and vocal Kremlin critic, dies on November 23, 2006, of poisoning by radioactive isotope polonium-210.
In a deathbed letter, Litvinenko blames Russian President Vladimir Putin for his death -- a claim Putin condemns.
Investigators center on two meetings in London that Litvinenko had described -- one in which he met with two Russians for tea in London, and another in which he met with a third Russian at a sushi bar.
Six months later, British prosecutors announce they have enough evidence to charge a Russian citizen -- one of the men who had met with Litvinenko for tea -- with the murder ...more...
MORE: Coverage in Russian from RFE/RL's Russian Service.
ARCHIVE
RFE/RL's English-language coverage of
Russia
.
SUBSCRIBE
For news and analysis on Russia by e-mail,
subscribe to "RFE/RL Russia Report."