Leader Of Unregistered Kazakh Party Detained In Almaty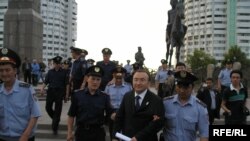 Asylbek Kozhakhmetov being arrested by police in Almaty today (RFE/RL) ALMATY, June 6, 2007 (RFE/RL) -- The leader of an unregistered Kazakh party was detained today for reading verses by Russian classic poet Alexander Pushkin in front of a small crowd on Almaty's Central Square, RFE/RL's Kazakh Service reported.
Asylbek Kozhakhmetov, who is the head of the unregistered Algha party, was accompanied by Kazakh poets Aysulu Kadyrbaeva and Amantay Akhmetov, who read their own poetry, and by Naghashybay Esmurzaev, a member of the Algha party.
Today is Pushkin's birthday.
The deputy prosecutor of Almaty's Bostandyq district had Esmurzaev, Akhmetov, and Kozhakhmetov forcefully removed from the square and detained.
Merkhat Sharipzhanov, the director RFE/RL's Kazakh Service, says the gathering was aimed at drawing attention to the recent detention of several individuals who had publicly protested against constitutional changes in the country.
RFE/RL Central Asia Report

SUBSCRIBE For regular news and analysis on all five Central Asian countries by e-mail,
subscribe to "RFE/RL Central Asia Report."