Kadeer told RFE/RL 's Uzbek Service that her people were waiting for such a meeting for several decades.
Bush, in his June 5 speech in the Czech capital, praised Kadeer for bringing to attention human-rights violation in the Uyghur-inhabited Xinjiang Province.
Beijing has condemned Bush's meeting with Kadeer.
Kadeer now lives in exile in the United States, but her three sons remain in a Uyghur-populated region of northwestern China.
Kadeer's youngest son, Alimu Ahbudurimu, was been sentenced to seven years in prison by a Chinese court for tax evasion, while another son, Kahaer Ahbudurimu, has been found guilty of the same charges but was spared a jail term.
On April 17, her third son was jailed for nine years for secessionist activities.
China In Central Asia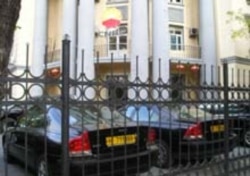 The Almaty,Kazakhstan, office of China's National Petroleum Corporation (RFE/RL)
BEIJING ON THE RISE:
The September 11, 2001, terrorist attacks against the United States prompted Washington to topple the Taliban regime in Afghanistan. At the time, many predicted the United States would gain a new foothold in Central Asia: new U.S. military bases appeared in Kyrgyzstan and Uzbekistan, U.S. foreign aid increased, and much U.S. attention was lavished on the region. Russia and China looked on warily. But the pendulum may be swinging back in Moscow's and Beijing's favor. China, especially, has expended great effort at winning friends in Central Asia and is becoming a force to be reckoned with
....(more)
RELATED ARTICLES
Turkmenistan-China Pipeline Project Has Far-Reaching Implications
Central Asia Looks To Fuel Asia's Economic Boom
The Geopolitical Game In Central Asia
ARCHIVE
To view an archive of RFE/RL's coverage of China, click here.

SUBSCRIBE
For weekly news and analysis on all five Central Asian countries by e-mail, subscribe to "RFE/RL Central Asia Report."