The official Xinhua news agency said a court in Urumqi, the regional capital of the northwestern Xinjiang region, sentenced Husseyin Celil to life in prison for taking part in "terrorist activities and plotting to split the country." The report gave no further details.
Celil fled China a decade ago and arrived in Canada where he was given citizenship. He was arrested in Uzbekistan in March 2006 while visiting his wife's relatives and extradited to China over Canada's objections.
A Canadian Embassy spokesman in Beijing said Canadian officials were in Urumqi, but were unable to attend the trial and were denied consular access to Celil.
At a news conference in Beijing today, Foreign Ministry spokesman Liu Jianchao said the Celil's case was "entirely China's domestic matter" and warned Canada not to try to interfere.
Celil was the second Uyghur activist to be jailed this week. On April 17, a son of exiled Uyghur human rights campaigner Rebiya Kadeer was jailed for nine years for secessionist activities.
(Reuters)
China In Central Asia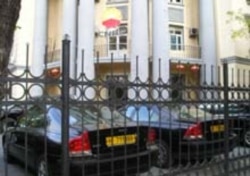 The Almaty,Kazakhstan, office of China's National Petroleum Corporation (RFE/RL)
BEIJING ON THE RISE:
The September 11, 2001, terrorist attacks against the United States prompted Washington to topple the Taliban regime in Afghanistan. At the time, many predicted the United States would gain a new foothold in Central Asia: new U.S. military bases appeared in Kyrgyzstan and Uzbekistan, U.S. foreign aid increased, and much U.S. attention was lavished on the region. Russia and China looked on warily. But the pendulum may be swinging back in Moscow's and Beijing's favor. China, especially, has expended great effort at winning friends in Central Asia and is becoming a force to be reckoned with
....(more)
RELATED ARTICLES
Turkmenistan-China Pipeline Project Has Far-Reaching Implications
Central Asia Looks To Fuel Asia's Economic Boom
The Geopolitical Game In Central Asia
ARCHIVE
To view an archive of RFE/RL's coverage of China, click here.

SUBSCRIBE
For weekly news and analysis on all five Central Asian countries by e-mail, subscribe to "RFE/RL Central Asia Report."