The two Russian citizens were detained on June 9. They had entered Estonia on tourist visas and said they were acting as "living memorials" to the "heroes of the Great Patriotic War."
Estonia moved the monument to another location in April, sparking protests within Russian and in Estonia by the country's ethnic Russian minority. Protestors saw the move as disrespectful to the Soviet Union's wartime sacrifice to help liberate Europe from Nazi Germany.
(dpa, ITAR-TASS)

Russia And The EU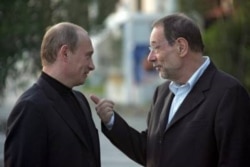 Russian President Vladimir Putin (left) with EU foreign policy representative Javier Solana in Sochi in May 2006 (epa)


A POLICY OF APPEASEMENT? Ralf Fuecks, head of the Heinrich Boell Foundation and a Green Party activist, spoke at RFE/RL's Prague broadcast center about the EU's complex relations with a resurgent Russia. RFE/RL President Jeff Gedmin moderated the discussion.
LISTEN
Listen to the entire briefing (about 60 minutes):

Real Audio
Windows Media
RELATED ARTICLES
Moscow Hosts PACE Standing Committee
Brussels Mulls Over Its Energy Sources
Council Of Europe 'Convinced' Of Chechnya Torture
ARCHIVE
RFE/RL's coverage of
Russia
.