British prosecutors announced in May that they had enough evidence to charge Andrei Lugovoi, a former KGB agent, with Litvinenko's murder, and requested his extradition from Russia.
Chaika said, however, that Lugovoi's extradition is not being considered.
Litvinenko was fatally poisoned by radioactive polonium in London in November 2006.
(AP, ITAR-TASS)

Facts About Polonium-210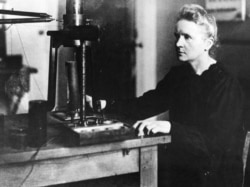 Marie Curie at work in 1925 (AFP)
Polonium, also called "radium F," was discovered by Marie Curie and her husband, Pierre Curie, in 1898 and was later named after Marie's homeland of Poland (Latin: Polonia).
It is an alpha emitter, meaning that although it is highly radioactive, it cannot penetrate human skin or a sheet of paper. Washing eliminates traces.
Contact with a carrier's sweat or urine could lead to exposure. But polonium-210 must be ingested or inhaled to cause damage.
Polonium-210 has a relatively short half-life of 138 days.
Polonium-210 occurs naturally in the environment (it is found in such things as dirt and tobacco) and in people at low concentrations. But acquiring a lethal amount would require individuals with expertise and connections.
Polonium-210 emits 5,000 times more alpha particles than radium, and an amount the size of the period at the end of this sentence would contain about 3,400 times the lethal dose. A dose like the one that killed former Russian spy Aleksandr Litvinenko would probably have been manufactured at a nuclear facility.
Russia exports 8 grams of polonium-210 monthly, all of it to the United States. Exports to Britain ended about five years ago.