Grozny Shootout Kills At Least Three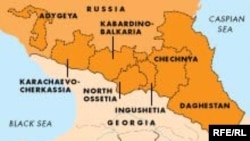 (RFE/RL) GROZNY, June 20, 2007 -- A gun battle between police and a Defense Ministry unit in the Chechen capital, Grozny, has left at least three people dead and several wounded.
Russian media said the fight broke out when traffic police stopped a car driven by a Defense Ministry soldier, and tried to test him for drunkenness.
The soldier refused and called for help, while the traffic officer summoned riot police units, ultimately sparking the gun battle.
(compiled from agency reports)