Addressing a Balkan energy summit in Zagreb, Croatia on June 24, Putin was as poker-faced as ever as he trumpeted a landmark deal that could secure Moscow's continued dominance of Europe's energy market.

"As you know, yesterday [June 23] Gazprom and the Italian [energy] company Eni signed a memorandum on the possible construction of a gas pipeline under the Black Sea," Putin told 10 heads of state from the Balkan region.

Putin also said Russia wants to build "underground storage facilities in several Balkan states, which will not only improve energy supplies to the region, but will make it more attractive and more important from the perspective of solving energy problems in Europe as a whole."

A day later at a meeting of the Organization of the Black Sea Economic Cooperation (BSEC) in Istanbul, Turkey, Putin urged member states to foster stability in the region's energy markets by signing long-term contracts -- presumably with Russia.

Putin later told reporters that "the Balkans and the Black Sea [region] has always been a sphere of our special interests," adding that it is "natural that a resurgent Russia is returning there."

Analysts say Putin's energy diplomacy in the Balkans and Turkey was partially aimed at frustrating the European Union's efforts to diversify the continents energy supply to lessen dependence on Moscow. But Putin also had a larger agenda: reestablishing a Russian sphere of influence in Southeastern Europe.

South Stream
The highlight of Putin's energy diplomacy this week was Gazprom's deal with Eni to build the South Stream pipeline, which would pump 30 billion cubic meters of Russian gas a year under the Black Sea to Bulgaria. The pipeline, which is slated to be finished by 2011, would then branch off in two directions: north to Austria and south to Italy.

Energy analysts say South Stream severely hampers the European Union's efforts to diversify the continent's energy supplies to reduce dependency on Russia.
Federico Bordonaro, a Rome-based energy analyst for the "Power and Interest News Report," says it's another big move in the chess game.
"We cannot talk about a bloc. What we can talk about is Russia's attempt to undermine the Washington-backed vision of a very homogenous wider Black Sea area"
"I don't think this kills other possible projects, but what it kills is the possibility that these other projects will be as decisive as they were actually thought to be," Bordonaro says.
A key component of the EU strategy is the proposed Nabucco pipeline, which would transport gas from Central Asia and the Caspian Sea region to Western Europe via Turkey and the Balkans -- without going through Russia.

To block this strategy and maintain its dominance, Moscow is seeking to gain control over energy routes in Southern Europe so Caspian and Central Asian gas is exported to international markets via Russia.

In May, Russia moved closer toward that goal when Putin, Turkmen President Gurbanguly Berdymukhammedov, and Kazakh President Nursultan Nazarbaev agreed to build a pipeline along the Caspian Sea coast to transport natural gas from Turkmenistan to Europe via Kazakhstan and Russia.

And the South Stream project is another giant step in that direction.

"I think it makes it much more complicated to find the backing for projects like the Nabucco pipeline. Particularly if South Stream seems to be looking at two onshore routes once it gets to Bulgaria -- one, perhaps, going across to Italy and one going to Austria. And that second one would be in competition with Nabucco," says Julian Lee, a senior analyst with the London-based Center for Global Energy Studies

More Roads Lead To Europe
The EU strategy has also been frustrated by nuclear-free countries like Germany and Italy who are among the most heavily dependent on Russian energy to generate electricity.

Moscow has also courted countries like Hungary, which decided in March to back another Gazprom plan to extend Russia's Blue Stream pipeline under the Black Sea. According to the plan, Hungary would then serve as a hub to transport Russian gas to Europe.


"Actually, if we see the whole thing in a broader perspective, this kind of strategy that wants to decisively reduce Russian influence is not working so well. I think that Russia reacted with an intelligent strategy," Bordonaro says.
Like many analysts, Marshall Goldman, a professor emeritus of Russian economics at Wellesley College and the author of a forthcoming book on Putin's energy policy, compares Putin's energy policy to a game of chess.
"The end game is to make sure that Russia maintains its monopoly control and to prevent anything from undercutting that kind of activity," Goldman says. "Gazprom's next step now is to pressure to gain control of the distribution lines within Europe, both Central and Western Europe."
New Kid On The Bloc
But Goldman and other analysts say Russia's grand strategy goes further than dominating Europe's energy market.

After being largely sidelined from European affairs since the 1991 Soviet breakup, Moscow is trying to use its energy might to reestablish a foothold -- some even say a "sphere of influence" -- on the continent.

And Russia sees a major window of opportunity in the western Balkans, where Moscow has longstanding cultural and historical ties and where countries like Serbia and Montenegro are becoming increasingly frustrated with the EU's reluctance to admit them.

"This energy game in the western Balkans is actually linked to geopolitical moves and to Russia's desire to become once again an influential player in the region, so that it will balance the EU and United States combined and the European Union's enlargement," Bordonaro says.

Bordonaro says that while Russia is a long way from establishing anything close to the old Soviet bloc, they are successfully "infiltrating a would-be Western bloc" on the continent:

"We cannot talk about a bloc," Bordonaro says. "What we can talk about is Russia's attempt to undermine the Washington-backed vision of a very homogenous wider Black Sea area, which is secured for NATO and Western security," he added.

And this assures Moscow a measure of political support -- or at least acquiescence -- in Europe.

"You certainly do have a sphere of influence because once those countries become addicted to using Russian natural gas they begin to hesitate to strike out in a different direction for fear that the Russians will cut them off," Goldman says.

But despite Russia's gas-powered geopolitical resurgence, most analysts point out that one of Europe's greatest fears, that Moscow will use energy as a political weapon against the West, is unfounded.
"Europe is dependent on Russia for a very large proportion of its natural-gas imports. Europe is not nearly as dependent on Russia as Russia is on Europe as a market for its gas exports," Lee says.
"Russia doesn't export significant quantities of gas anywhere other than to Europe. It exports some to the former Soviet republics, and it is beginning to bring prices there into line with its European prices. But it has no gas-export pipelines that go anywhere other than Europe."

Despite Gazprom's current might, it could have other problems in the future supplying its customers with gas. Many analysts say that some of its fields are underdeveloped and need more investment to meet growing demand.
Russia And The EU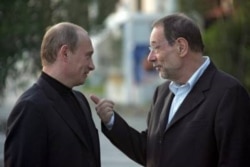 Russian President Vladimir Putin (left) with EU foreign policy representative Javier Solana in Sochi in May 2006 (epa)


A POLICY OF APPEASEMENT? Ralf Fuecks, head of the Heinrich Boell Foundation and a Green Party activist, spoke at RFE/RL's Prague broadcast center about the EU's complex relations with a resurgent Russia. RFE/RL President Jeff Gedmin moderated the discussion.
LISTEN
Listen to the entire briefing (about 60 minutes):

Real Audio
Windows Media
RELATED ARTICLES
Moscow Hosts PACE Standing Committee
Brussels Mulls Over Its Energy Sources
Council Of Europe 'Convinced' Of Chechnya Torture
ARCHIVE
RFE/RL's coverage of
Russia
.