The judge dismissed the case brought by Davlatmoh Ismoilova, a 20-year-old university student, on grounds that the documents prepared by her lawyer were legally flawed. Ismoilova said she would appeal.
The case is Tajikistan's first reported legal challenge to the ban passed earlier this year on Islamic head scarves.

Islam And Politics In Central Asia
Islam And Politics In Central Asia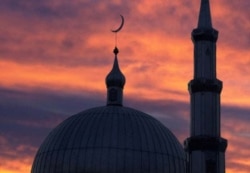 The Khodji Mashrab Mosque in Dushanbe (TASS file photo)
ACTIVISTS AND AUTOCRATS: Eric McGlinchey, assistant professor of government and politics at George Mason University, told an RFE/RL briefing that Islam-centered political movements present the most coherent challenge to autocratic governments in Central Asia.
LISTEN
Listen to the entire briefing (about 60 minutes):

Real Audio
Windows Media
RELATED ARTICLES
Central Asian Security Services Take On Religious Dissent
Family, Followers Reject 'Terrorist' Claims Against Slain Cleric
Hizb Ut-Tahrir's Calls For Islamic State Find Support
Imam Extends Welcome To Hizb Ut-Tahrir

A thematic webpage devoted to issues of religious tolerance in RFE/RL's broadcast region and around the globe.