Police say the boy, Rafiqullah, was caught wearing a suicide vest on a motorbike in the eastern Afghan city of Khost in June.
The boy's father said he had sent his son to a madrasah in Pakistan to learn the Koran and then lost touch with the youth.
RFE/RL's Radio Free Afghanistan correspondent Fahima Benawa reports that Karzai told attendees at a ceremoney in Kabul today that the "enemies of Afghanistan" had misled the boy.
"Neither this young boy nor his father is to be blamed," Karzai said. "He sent his son [to a madrasah] for education. The enemies of the religion wanted this young boy to destroy himself and to destroy other Muslims with him. I forgive him and wish him all the best."
Kabul officials say many suicide bombers and Taliban fighters are recruited from among impressionable youths in Pakistan's madrasahs.
Pakistani President Pervez Musharraf has announced efforts to reform the country's most radical madrasahs in recent years, although the move has stalled amid opposition from hard-line clerics.
The seige and recent storming of the Red Mosque complex in Islamabad has highlighted the dilemma that Musharraf faces from militant clerics like Abdul Rashid Ghazi.
Karzai said after the Red Mosque violence that the same militants killing "Afghan sons" and destroying Afghanistan are those who sparked the Red Mosque crisis in Pakistan.
Afghan officials, including Karzai, have in the past accused Pakistan of harboring Taliban and Al-Qaeda militants and of trying to destabilize Kabul, a charge that Islamabad denies.
When asked today if he had a message for Pakistan, Karzai said: "I have a message. It is a message of peace, forgiveness, a message pleading for better relationships, not cheating the children and encouraging them into terrorism and suicide."
Afghanistan's Education Ministry has pledged to establish centrally approved madrasahs in each of the country's 34 provinces to counter the Taliban's purported plans to spend around $1 million to create its own schools.
Much of the hard-line Taliban leadership that ruled major swaths of Afghanistan until the U.S.-led military intervention there comprised students from fundamentalist madrasahs in Pakistan.
(RFE/RL's Radio Free Afghanistan, with Reuters)
Afghanistan And Pakistan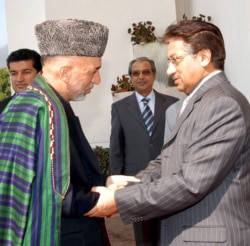 Afghan President Hamid Karzai (left) with Pakistani President Pervez Musharraf in Islamabad in October 2005 (epa)

ACROSS A DIFFICULT BORDER. The contested border between Pakistan and Afghanistan is some 2,500 kilometers long and runs through some of the most rugged, inhospitable territory on Earth. Controlling that border and preventing Taliban militants from using Pakistan as a staging ground for attacks in Afghanistan is an essential part of the U.S.-led international coalition's strategy for stabilizing Afghanistan. Officials in Kabul have been pointing their fingers at Pakistan for some time, accusing Islamabad or intelligence services of turning a blind eye to cross-border terrorism targeting the Afghan central government. Many observers remain convinced that much of the former Taliban regime's leadership -- along with leaders of Al-Qaeda -- are operating in the lawless Afghan-Pakistani border region.... (more)
RELATED ARTICLES
Pakistan-Afghanistan Conflicts Continue
Karzai, Musharraf Spar Ahead Of Bush Meeting
Musharraf Says Taliban Could Spark Pashtun 'National War'
Afghan Minister Attacks Pakistani Support For 'Terrorism'
Historical Context Of Afghan-Pakistani Relations
Afghanistan/Pakistan: 'Inseparable Twins' In Need Of Separation
ARCHIVE
RFE/RL
coverage of Afghanistan
. RFE/RL
coverage of Pakistan
.
SUBSCRIBE
For weekly news and analysis on Afghanistan by e-mail,
subscribe to "RFE/RL Afghanistan Report."